Ubuntu Linux Instructions
To access wireless internet using an Ubuntu Linux device, please follow the directions below. If you experience difficulties, call the Student Support Center: 1-877-899-1499 or send an email to csc@davenport.edu.


---
Step 1
Go to available wireless connections and select du-secure.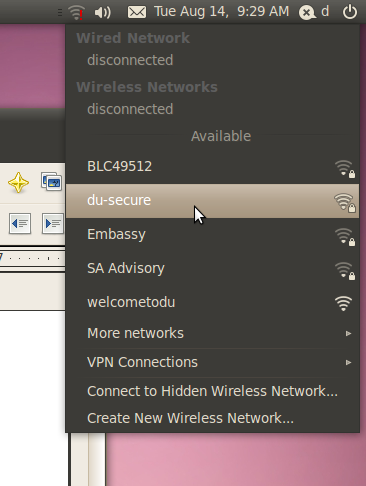 Step 2
Fill out the network authentication and set inner authentication to MSCHAPv2. Change authentication to PEAP and enter in your DU username and password. Click connect.


Step 3
Now you should see a warning pop up saying No certificate Authority certificate chosen. Click don't warn me again. Then choose ignore. You will now be successfully connected to du-secure.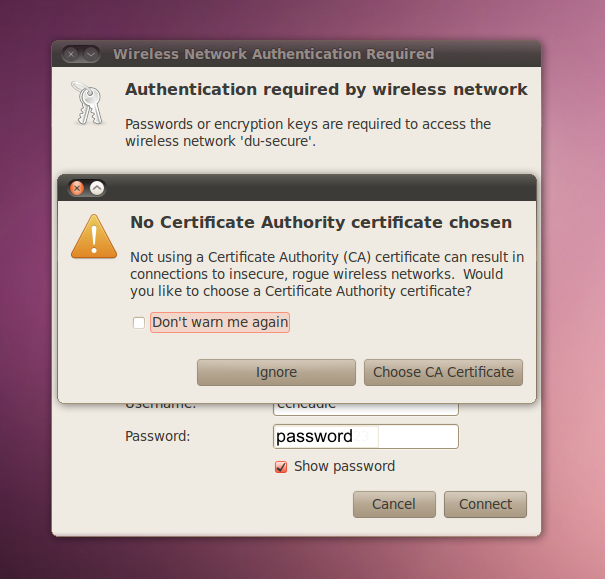 Optional
If you still experience issues with connecting to du-secure, you may connect to DU-Guest. This network is unsecure and has much slower data speeds. The DU-Guest network will require a few items of information before you are able to connect.