Registered Student Organizations

Academic excellence is at the heart of Davenport University. This emphasis is reflected in our many academic organizations. Whether networking, socializing or preparing for a dream career - we encourage students to explore, join and serve as a member of these great organizations!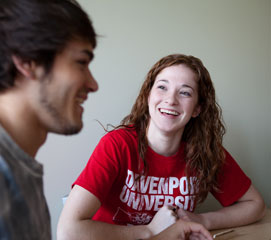 Clique @ DU
A Registered Student Organization (RSO) at Davenport University is any group of DU students formed to contribute to members' educational growth, recreation, and/or career and professional development.
A minimum of three active student members is needed to qualify as an RSO. Application forms are available in the Student Life office and online. If you have any questions regarding RSOs, please contact Melissa Blythe. She would be happy to help!