Human simulators are used in Davenport nursing labs to give students a real-world experience
Hear what students are saying about the opportunity to work with human simulators on a regular basis throughout their time at Davenport.  Regular exposure to this type of hands-on practice gives students the confidence and skill they need to move forward into a rewarding career in Health Professions.
Midland students use human simulators to practice labor and delivery
Our Clinical and Simulation Lab Coordinator for the Midland Campus, Michelle Hagstrom, walks students through an exciting demonstration of a live birth using human simulation technology.  Our state-of-the-art Human Simulator Mom actually gives birth, providing an invaluable training experience for students that directly applies to real-life situations they will encounter.  Students are able to make split second decisions to administer medications or provide other medical treatment, depending on the varying needs of SIM Mom.  This enables students to boost their confidence and ability to handle a high-risk birth in real life.
Davenport prides itself on the ability to offer realistic hands-on experiences, and this plane-crash simulation is no exception.  Working in collaboration with the Grand Rapids Fire Department, hundreds of Health students and faculty/staff volunteers were brought to the Grand Rapids campus for an in-depth training on how to manage a real disaster.  Students were given the opportunity to triage medical cases, treat survivors and manage the shock and panic that arises in these situations.  This provides a once-in-a-lifetime opportunity for students to prepare themselves for responding to emergencies
Ribbon Cutting Ceremony for new Simulation Lab on Warren Campus
At Davenport University, all nursing campuses have state of the art simulation labs.  This video showcases our simulation capabilities.  Different from other Nursing programs, the Mable Engle Nursing Program integrates simulation throughout the curriculum with weekly simulation events on all four nursing campuses: Grand Rapids, Midland, Lansing and Warren.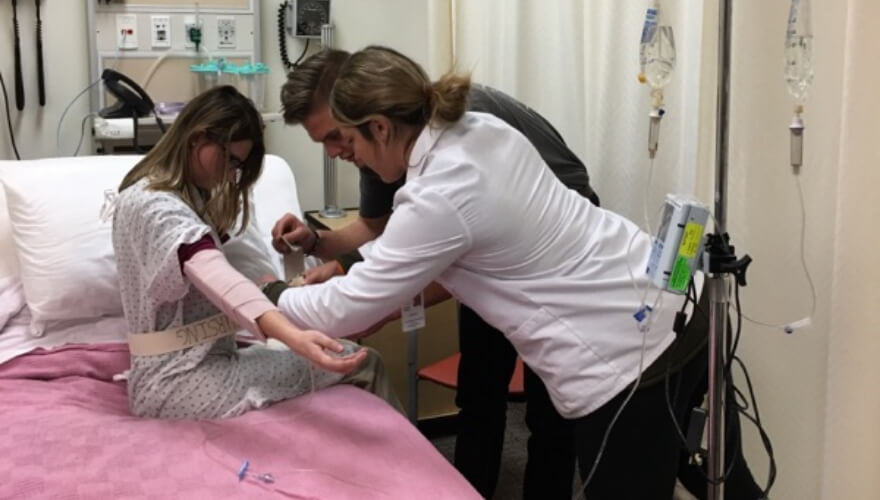 Occupational Therapy and Nursing Students Join Forces for Patient Transfer Training
Interprofessional Collaboration is an emerging practice in the College of Health Professions.   Occupational Therapy and Nursing students often engage in patient-related simulations together.  This semester, students on our W.A. Lettinga Simulation lab united for a training focusing on preventing falls in elderly patients, as falls can be life-threatening for this population.  Students conducted the activity using healthy volunteers who were each assigned a medical challenge in order to create a life-like atmosphere.