"Get where the world is going" is used in conjunction with the Davenport logo when possible. The tagline can also be used in communication as artwork that stands alone in a publication that also includes the DU logo or as a part of the logo. The tagline is never used as a piece of art in copy. The tagline is used in communications when possible except when space prohibits.
NOTE: When the tagline is used as a headline, use a period.
Breaking the Tagline
The tagline is set in Davenport Steelfish Bold. The color is PMS Cool Grey #11 or 68% black. If the tagline is typeset on two lines or more, justify it side-to-side.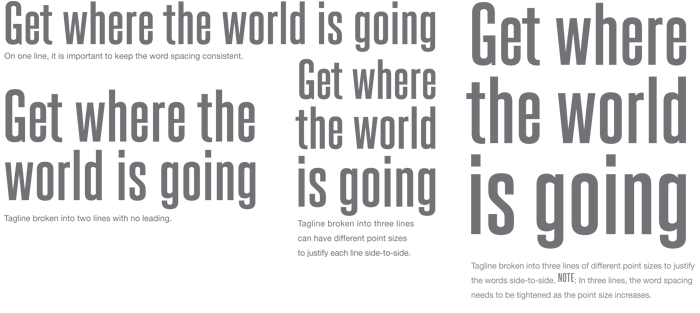 Spacing the Tagline
The minimum point size allowed to space a tagline is 24 points at 7" width. The tagline should not be used if the point size is less than 10 point.

Tagline With Other Elements