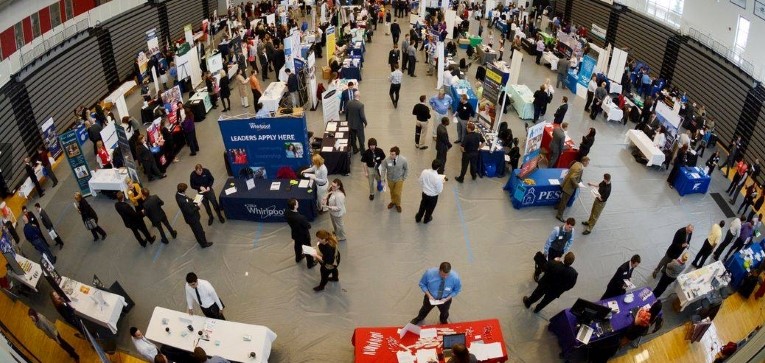 2018 Accounting & Finance Career Fair
Thursday, September 27, 2018 from 3:00-5:00pm
Don't miss the Annual Accounting & Finance Fair being held Thursday, September 27, 2018 from 3:00-5:00pm.  Candidates will have the opportunity to meet with college recruiters from local banks, corporations, CPA firms and other financial institutions.  The fair will be held in the Auxiliary Gymnasium of the Student Center on the Grand Rapids W.A. Lettinga Campus.
Current List of registered employers Click Here
Career Service Guidebook CLICK HERE
Requirements: 
Career Services Approved Resume In Panther Jobs (If you have a previously approved resume, go ahead and register TODAY) If you are NOT seeking a Winter 19 internship you do not need to complete requirement number 2.
Internship Seekers ONLY must do the following BEFORE September 15

Meet with an Academic Adviser and get a signed degree plan 
Fill out the Internship Intent Form, and turn it in to Shari Watanbe's Office 317
Attend an Internship Workshop
Steps for success:
Update your resume and submit it to Panther Jobs to be approved.
From the Panther Jobs Student Home Page, click the "My Documents" tab on the left side of the screen
Click on Pending
Click the green add new button in the center of the page
Label your document, select the document type
Click choose file, and select the document from your files to upload 
Click the green submit tab. A Career Services Coordinator will review your document, approve it or send feedback regarding their findings.  
Register for the Career Fair | Register Today!
After your resume has been reviewed and approved by Career Services click on the Register Today link that will bring you to the Panther Jobs student homepage
Go to Events on the left hand side of the page
Click Workshops and scroll down to 2018 Accounting and Finance Career Fair
Click 2018 Accounting and Finance Career Fair and click RSVP
Apply for On-Campus Interviews through Panther Jobs for positions open at each company – In some cases you will also need to apply on the individual company website as well as Panther Jobs.
Please apply for these positions before the Accounting and Finance Fair
Go to your Panther Jobs homepage and look on the right hand side for the "INTERVIEWS" header and click on "Campus Interviews I Qualify For"
Find the position you are interested in for each company
Review specific ELIGIBILITY requirements BEFORE you apply (résumé must be uploaded first)
Employers must make their interview selections no later than 12:00 pm on Friday, September 28th
Check in Panther Jobs frequently to find out if you are one of the lucky ones – sign up for your interview time if you are – sign up is on a first-come-first-serve basis.
   4.  Professional Dress is Required