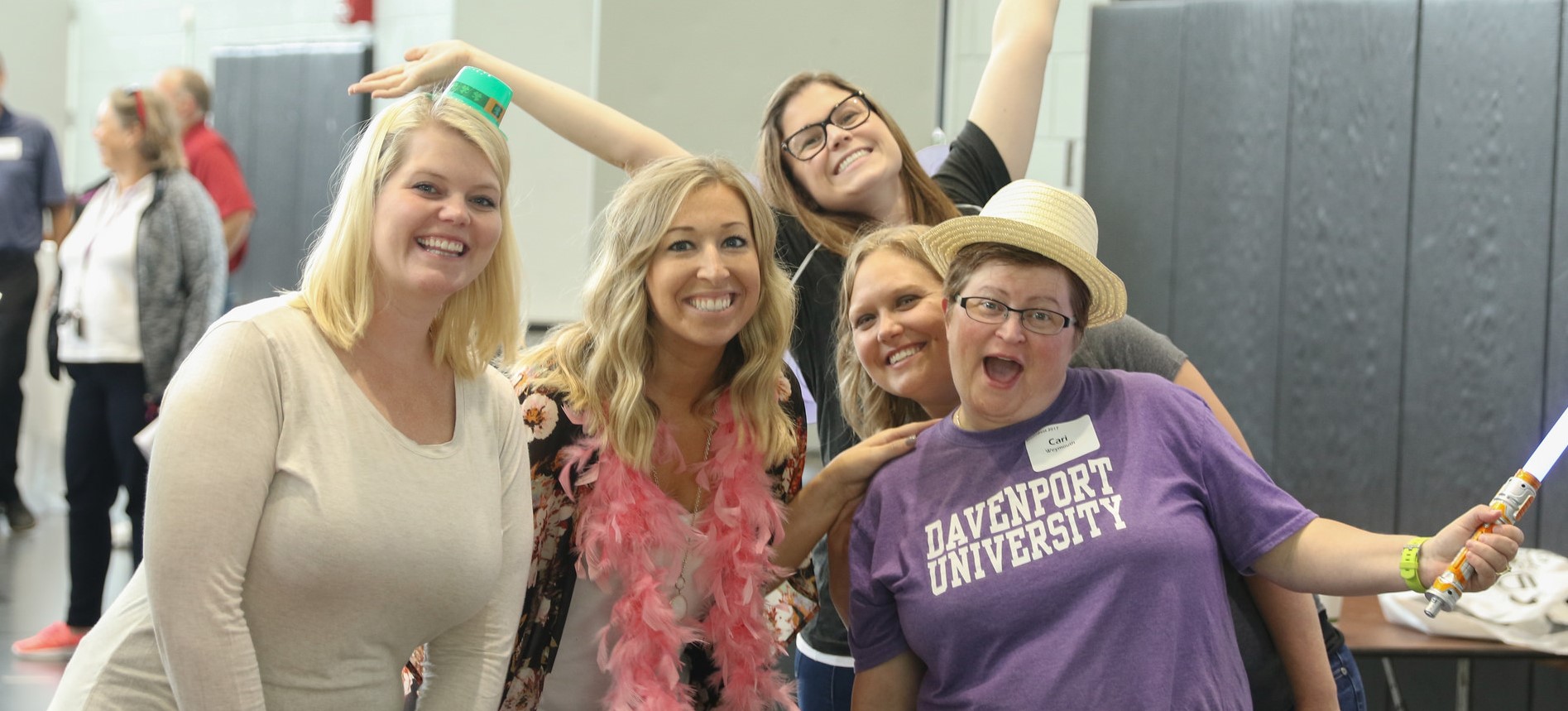 Things to Know 
Our Davenfest 2018 theme is "Our Story".  We are delighted to welcome Michelle Van Dyke, a member of our Board of Trustees as our Guest speaker to share her story, and we are mining for and refining stories from some of you to additionally inspire and inform.  DavenFest is an annual employee celebration event where we come together to celebrate accomplishments, recognize & reward outstanding achievements, share progress toward our vision and receive important information for our future together.
In order to help make your experience at DavenFest the best it can be, we have assembled answers to a few common questions.
Who is invited?
Full- and part-time faculty and staff and distinguished adjuncts from all Davenport Campuses are invited, pending manager approval specific to covering departmental needs.
RSVP & Website
Visit the Davenfest website to RSVP no later than 5 p.m. Tuesday, July 17, and for information about the upcoming event, photos and former award winners. Please ensure that you have received manager approval specific to covering departmental needs. Carpool groups will be coordinated by each campus, so check with your Campus Leader for details, and note that mileage will be paid from our Davenfest budget so please submit expense reports to Deb Bales.
When is DavenFest?
Thursday, August 16th 2018
9:00 AM - Registration
9:55 AM - Program Begins
12:00 PM - Lunch is Provided
3:00 PM - Wrap-Up
Where is DavenFest?
In The Roger VanderLaan Arena at the Student Center (SC) on the W.A. Lettinga Campus in Grand Rapids, Michigan.  Registration begins in the Student Center lobby (look for the enormous Panther Head!) 
Pre-Events
Arrive early for some fun and mingling in the auxiliary gym. There will be the "famous" photo booth, the traveling DU Bookstore, interaction with Pounce, and time to interact with colleagues from across the state! Coffee and beverages will be provided before the program begins.  And coming soon, we will share how you can tell your own DU story in a few short words for use at Davenfest and beyond.
Lunch Menu:
Gourmet Mac and Cheese including gluten free and vegetarian options and many topping selections especially prepared by our Chefs at Creative Dining, salads and ending with various trifle flavors for dessert.
Attire
Attire for the meeting is casual, which means your favorite DU apparel is encouraged to show your Panther Pride! Please note that tennis shoes or soft sole shoes are required, no spike heels, in order to help protect the gymnasium floor.  We continue to improve both our temperature and seating comfort, but please dress in layers to provide you with options.
Other information
Carpool groups will be coordinated by each campus, so check with your Campus Leader for details