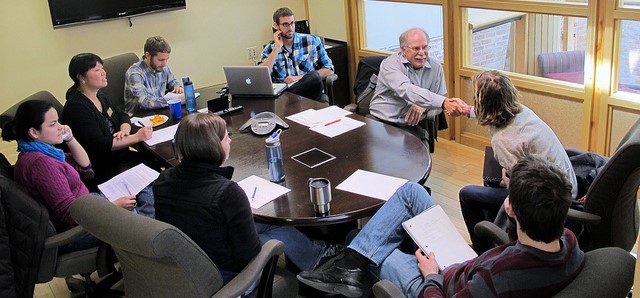 Entrepreneurial Center Consulting Services
Davenport's course-based project student consulting teams utilize our business and technology talent to complete the high-level project work of your business or non-profit organization.
Under faculty supervision, students consult with you, the external client, to assess the needs of your organization and design and deliver projects to meet those needs.
Student project consultants can provide project-based assistance to allow your organization to function more efficiently.
Advantages

Obtain new ideas
Engage with potential customers and clients
Receive practical recommendations
Improve organizational performance
Receive a detailed written final report and presentation summarizing the project and recommendations

Typical Project Types

Business plans
Feasibility studies
Market Research & Analysis
Relevance Studies
Accounting & Finance Studies
Systems Analysis & Review
Marketing Plans
Technology Requirements Planning
Plus a variety of other projects customized to your business or IT needs
Testimonials:
College of Technology
TECH489 –  Field Experience in Technology, Fall 2017
Instructor: Vivianne Moore, PHD
Course Testimonial by Louis Jackson (Student)
Major: Network Security
"Tech489 Field Experience Technology course created an exceptional "win-win" opportunity for student collaboration in project teams online to offer "real-world, time-sensitive" technology-based solutions and recommendations, for a local Michigan business. Course engaged in leadership, team building, project planning, research, and reports for best practice I.T. Security needs.  Best online student to business collaboration experience!  Awesome use of technology interacting with the business owner!  Great course, under the direction of Dr. Vivianne Moore!"
 - Louis J.
Advanced Interactive Response Systems (AIRS)
Newago, Michigan
CEO: Valerie Obenchain, RT
"AIRS greatly appreciates the opportunity to work with Davenport students. We have found the students to be very insightful in the research and prototyping they have preformed for our oxygen monitoring devices. The student projects have brought value to AIRS and a new learning experience for the students. Davenport University student projects benefit both the students and business."
 - Valerie Obenchain, Founder and CEO of AIRS