Skip to Program Curriculum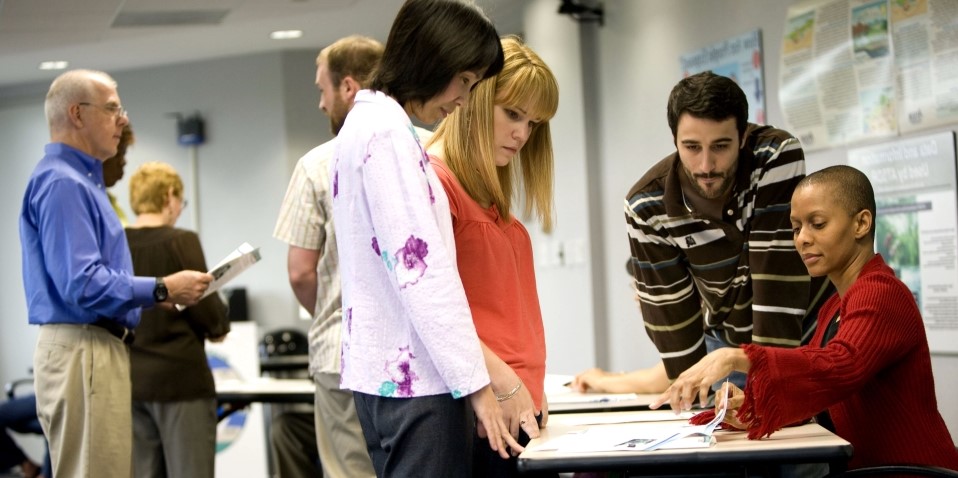 Marketing, bachelor of business administration
Developed in partnership with business leaders, Davenport University's marketing program meets the dynamic needs of the marketing industry. Our content provides you with necessary theory and strategy concepts, while also providing the hands-on tactical skills necessary to succeed in today's marketplace. To specialize your studies, you choose your focus in digital marketing and advertising, technology marketing, or value-chain. After completing your studies, you will be able to manage information using digital technologies and develop strategies that leverage and integrate information into marketing plans.
The BBA in Marketing can be completed in-seat or online.
Download a
PDF
of the Marketing degree program.
Marketing Degree Specialties
Davenport offers three specialties to tailor your degree; Digital Marketing and Promotion, Marketing Technology and Value Chain. After you have completed the core courses in the Marketing major, you will complete your degree with the College of Business elective courses or you can choose from one of these specialties. In addition, our unique marketing specialties offer the ability for you to be prepared to earn marketing certificates, keeping you up-to-date with current marketing trends. These certificates can help you leverage your career.
There are two certificates in the core Marketing courses that you will be prepared to earn regardless of your chosen specialty.
Two additional marketing courses that will prepare you to pass specific certifications are imbedded in specific specialties.
Earn Your Marketing Certificate
MKTG212 Professional Selling

While taking this course students will have the opportunity to earn HubSpot's Inbound Sales Certification. This free certification features five classes that introduce students to the Inbound Sales Methodology, from identifying potential buyers, to developing outreach strategies, to building personalized presentations.

MKTG322 Digital Marketing

Students in the MKTG 322 will have the opportunity to earn HubSpot's Marketing Inbound Certification, a free marketing training course that reviews the fundamentals of the inbound marketing methodology. Topics covered SEO, blogging, landing pages, lead nurturing, conversion analysis and reporting come together to form a modern inbound marketing strategy.

MKTG 312 Digital Retailing

Students enrolled in MKTG 312 will have the opportunity to earn Google's free E-Commerce Analytics Certificate. Students will learn how to use Enhanced Ecommerce reports in Google Analytics to make informed ecommerce business decisions.

MKTG 346 Digital Brand Engagement

This course offers the opportunity to earn Google's free Analytics for Beginners Certificate. This will allow students to become proficient with the basic features of Google Analytics including how to create an account, implement tracking code, analyze basic reports, and set up goals and campaign tracking

Back to Top
Full Curriculum
BACHELOR OF BUSINESS ADMINISTRATION  •  120 CREDITS  •  MKTG BBA

Marketing students gain skills in business fundamentals and specific marketing disciplines in a learning environment that balances textbook theory with real-world marketing application. Students become familiar with the marketing functions and processes that deliver customer value, enhance customer relationships and benefit organizations and their stakeholders. Varied learning methodologies that emphasize critical thinking, problem solving and ethical decision-making prepare students for the marketing challenges of today's global environment. Graduates earn a Bachelor of Business Administration degree with a major in Marketing and an elective Specialty in Digital Marketing and Promotion, Marketing Technology, or Value Chain.

 
Which class should I take? When should I take it?
2018-2019 Recommended Program Sequences for Marketing, BBA:

Marketing, BBA and printable pdf download
Specialty: Digital Marketing and Promotion and printable pdf download
Specialty: Marketing Technology and printable pdf download

Specialty: Value Chain and printable pdf download
Foundations of Excellence
39 cr.
ACES100 or OPEN
Achieving Career and Education Success or (if exempt) Open Elective
3 cr.
COMM120
Presentation Techniques
3 cr.
DATA275
Introduction to Data Analytics
3 cr.
ECON200
Microeconomics
3 cr.
ECON201
Macroeconomics
3 cr.
ENGL109
Composition
3 cr.
ENGL110
Advanced Composition
3 cr.
ENGL311
Professional Writing
3 cr.
MATH125
Intermediate Algebra
3 cr.
STAT220
Introduction to Statistics
3 cr.
SOSC201
Diversity in Society
3 cr.
HUMN
Humanities Elective
3 cr.
SOSC
Social Science Elective
3 cr.
Foundations of Business
32 cr.
ACCT201
Accounting Foundations I
4 cr.
ACCT202
Accounting Foundations II
4 cr.
BITS211
Microcomputer Applications: Spreadsheets
3 cr.
BUSN210
Professional Ethics
3 cr.
CISP111
Requirements Planning and Development
3 cr.
FINC211
Corporate Finance
3 cr.
GPMT287
Principles of Project Management
3 cr.
LEGL210
Business Law Foundations
3 cr.
MGMT211
Management Foundations
3 cr.
MKTG211
Marketing Foundations
3 cr.
| Plus 6 (six) Marketing electives [MKTG] or choose one of the following specialties: | (12-18) cr. |
| --- | --- |
Digital Marketing and Promotion Specialty [DMKS]
(18) cr.
CISP211
E-Business Technologies
3 cr.
MKTG214
Public Relations Foundations
3 cr.
MKTG312
Digital Retailing
3 cr.
MKTG324
Social Media Strategies
3 cr.
MKTG346
Digital Brand Engagement
3 cr.
MKTG425
Search Engine Marketing and Analytics
3 cr.
Marketing Technology Specialty [MTCS]
(18) cr.
BITS301
Image Editing Applications
3 cr.
CISP211
E-Business Technologies
3 cr.
CISP220
Web Page Applications
3 cr.
CISP303
Web Development
3 cr.
MKTG346
Digital Brand Engagement
3 cr.
MKTG425
Search Engine Marketing and Analytics
3 cr.
Value Chain Specialty [MVCS]
(18) cr.
CISP211
E-Business Technologies
3 cr.
GPMT410
Global Sourcing for Projects
3 cr.
MGMT413
Sustainable Supply Chain Management
3 cr.
MKTG311
Channel Strategy
3 cr.
MKTG312
Digital Retailing
3 cr.
MKTG404
Business-to-Business Marketing
3 cr.
<!–– program json structured data ––>