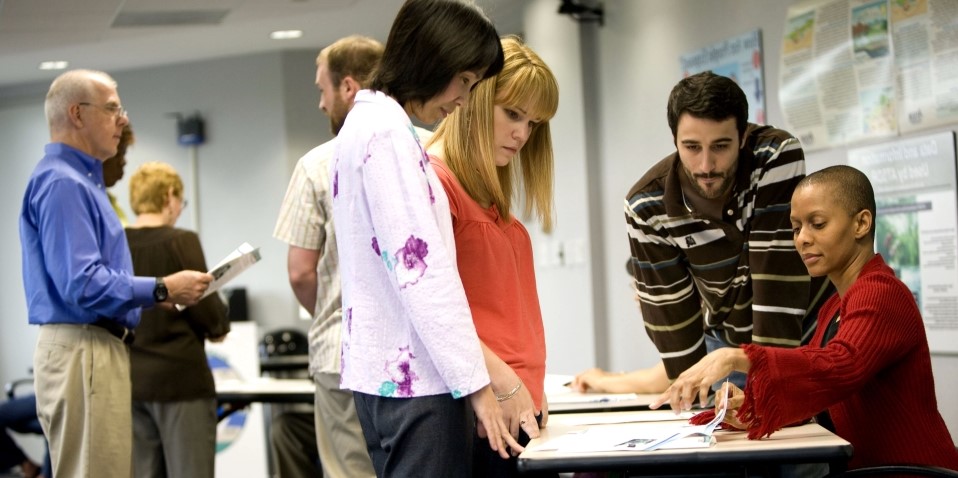 Marketing, bachelor of business administration
New Fall 2017:
Marketing Degree Specialties
Davenport will offer three new specialties to tailor your degree; Digital Marketing and Advertising, Marketing Technology and Value Chain. After you have completed the core courses in the Marketing major, you will complete your degree with the College of Business elective courses or you can choose from one of these specialties. In addition, our unique marketing specialties offer the ability for you to be prepared to earn marketing certificates, keeping you up-to-date with current marketing trends. These certificates can help you leverage your career.
There are two certificates in the core Marketing courses that you will be prepared to earn regardless of your chosen specialty.
Connect business strategy to organizational marketing campaigns.
Developed in partnership with business leaders, Davenport University's marketing program meets the dynamic needs of the marketing industry. Our content provides you with necessary theory and strategy concepts, while also providing the hands-on tactical skills necessary to succeed in today's marketplace. To specialize your studies, you choose your focus in digital marketing and advertising, technology marketing, or value-chain. After completing your studies, you will be able to manage information using digital technologies and develop strategies that leverage and integrate information into marketing plans.
With your marketing degree from Davenport University you will be poised to be a key contributor in developing marketing plans for your company's strategic plan. This may include specific marketing strategies such as advertising, promotion, production, pricing and social media. We also include research and analytics to help you understand consumer needs and market opportunities. What does Davenport have to offer?
Our marketing degree integrates web technologies and computer information systems into our core-marketing curriculum and specialties.
What is the benefit for you?
By taking courses in the College of Technology in addition to those in the College of Business, you are better prepared to conduct marketing in today's increasingly digital world.
Applied, experiential learning internships or consulting projects, allow you to work in variety of real-life settings with companies, non-profits, and in a variety of professional sectors.
What is the benefit for you?
This means you get job experiences that build your skills and strengthen your resume while earning college credits.
Compared with Midwestern colleges and universities, our Marketing programs' specialties and curriculum focus more on cutting edge, current marketing career areas better aligned with marketplace needs.
What is the benefit for you?
You will have the ability to create and manage digital marketing campaigns, social media outlets, and analytic platforms for websites.
The BBA in Marketing can be completed in-seat or online.
Download a
PDF
of the Marketing degree program.
Digital Marketing & Advertising: Understand a comprehensive review of digital retailing, social media strategies, search engine marketing and analytics as well as public relations for marketing strategy.

MKTG214 Public Relations
MKTG246 Digital Brand Engagement
MKTG425 Search Engine Marketing & Analytics
MKTG324 Social Media Strategies
MKTG312 Digital Retailing
CISP211 eBus Foundations

Marketing Technology: Become proficient in the rapid deployment of common and complex web solutions as well as creating effective and attractive web pages using popular web authoring programs.

CISP220 Web Page Applications
BITS303 Web Authoring
BITS301 Image Editing Applications
CISP211 eBus Foundations
MKTG346 Digital Brand Engagement
MKTG324 Social Media Strategies

Value-Chain: Explore digital retailing as well as business-to-business marketing and distribution channel strategies preparing you to be successful in designing, developing, and implementing successful distribution channels that add value with each transaction.

MKTG311 Channel Strategy
GPMT410 Global Sourcing of Projects
MKTG404 Business-to-Business Marketing
MKTG312 Digital Retailing
CISP211 eBus Foundations
MGMT413 Sustainable Supply Chain Management
Earn Your Marketing Certificate
MKTG212 Professional Selling

While taking this course students will have the opportunity to earn HubSpot's Inbound Sales Certification. This free certification features five classes that introduce students to the Inbound Sales Methodology, from identifying potential buyers, to developing outreach strategies, to building personalized presentations.

MKTG322 Digital Marketing

Students in the MKTG 322 will have the opportunity to earn HubSpot's Marketing Inbound Certification, a free marketing training course that reviews the fundamentals of the inbound marketing methodology. Topics covered SEO, blogging, landing pages, lead nurturing, conversion analysis and reporting come together to form a modern inbound marketing strategy.

MKTG 312 Digital Retailing

Students enrolled in MKTG 312 will have the opportunity to earn Google's free E-Commerce Analytics Certificate. Students will learn how to use Enhanced Ecommerce reports in Google Analytics to make informed ecommerce business decisions.

MKTG 346 Digital Brand Engagement

This course offers the opportunity to earn Google's free Analytics for Beginners Certificate. This will allow students to become proficient with the basic features of Google Analytics including how to create an account, implement tracking code, analyze basic reports, and set up goals and campaign tracking
Employment Opportunities
Marketing occupations are critical to the economy and expect to have significant employment opportunities in
the future. Some job opportunities include the following:
Market Research Analyst
Director of Public Relations
Sports Marketing
Retail Sales Manager
Advertising Account Manager
Health Care Marketing Liason
| | | |
| --- | --- | --- |
| Salary Information | Statistic | Resource |
| Starting salaries for Marketing | $43,678 in the U.S. | |
| Starting salaries for Marketing | $40,507 in the Great Lakes Region | |
| Average salaries for Market Analyst | $62,150 in the U.S. | |
| Projected growth for Market Analyst | 19% growth from 2014-2020. | |