Health Care Management, GRC
Skip to Program Curriculum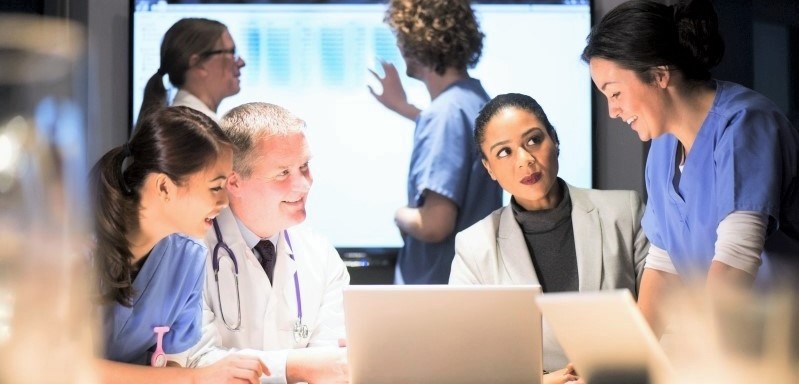 The Graduate Certificate in Healthcare Management is designed for working healthcare professionals who want to enhance their proficiency and leadership skills in the healthcare management field. The certificate program is a 12 credit hour (15 if prequisite courses are needed) and can be completed in one year. The curriculum introduces students to concepts in strategic management, ethical and legal principles, financial concerns, and an option to explore medical practice management or information management in healthcare.
The Bureau of Labor Statistics has indicated that the job outlook for medical and health services managers is expected to have a higher than average job growth (20%) through 2026. There will be an increasing need for managers who are versed in medical group practice management as well as those with knowledge of health information technology and informatics systems.
The courses taken for the Graduate Certificate can be applied toward the MBA with a Healthcare Concentration.
Back to Top
Full Curriculum
HEALTH CARE MANAGEMENT GRADUATE CERTIFICATE      • 12 CREDITS      • HC MGMT GRC
Graduate Certificates provide students with the opportunity to deepen their skills in a particular subject. They may be completed at any time while taking Master's degree provided the prerequisites are met, or the certificate may be completed as a stand-alone. 

The credit for a single course cannot be applied to more than one degree or certificate; a course substitution must be approved by the Department Chair. 

Prerequisite: HCMG630 Health Care Organizations may be taken as an elective in the MBA and is a required prerequisite that must be completed prior to taking the following courses in the Graduate Certificate in Health Care Management.
 
Which class should I take? When should I take it?
2017-2018 Recommended Program Sequence for Health Care Management, GRC and printable pdf download
Major
12 cr.
HCMG770
Strategic Management in Health Care
3 cr.
Select three of the following courses:
(9) cr.
HCMG730
Ethical and Legal Perspectives In Health Care
3 cr.
HCMG745
Medical Practice Management
3 cr.
HCMG750
Financial Management for Health Care
3 cr.
HINT730
Information Management in Health Care
3 cr.
Gainful Employment Disclosure