Renita Elder-Robinson (relderrobinson@davenport.edu)
Veterans Nursing Coordinator & Faculty
Livonia Campus
(734) 943-2852
---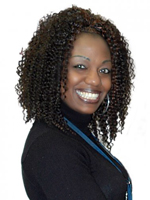 Provide mentoring and professional development for VBSN students
Assist Veteran student with transition from medic to VBSN student
Course Facilitator of Nursing 110 Transitional Nurse Course
Coordinate and develop training for nursing faculty and staff in support of the VBSN students.
Act as liaisons between VBSN PL students and faculty if student is deployed to ensure program continuation for the student.
Work with DU resources and faculty to obtain any necessary accommodations for VBSN students
Collect and track data of VBSN students, including enrollment, grades, attendance, GPA, for evaluative purposes.
Monitor student success, including daily attendance of 100-level courses to mitigate retention
Administer HESI and placement exams to VBSN students to determine knowledge-level and skill-set of students.
---
My military career started 25 years ago in September 1989, as a young college student, eager to gain additional financial assistance for college. As a Pre-Med student, I thought what a great opportunity to gain medical experience.  I attended Ft Dix, New Jersey for my initial Basic Training then headed to Ft Sam Houston, Texas for their 10 week medic course.  The first 12 years of my military career, I served as an enlisted medic 91A, as it was known at that time, in both Army Reserve and Army National Guard.
After receiving my Associates degree in Nursing in December 1999, I applied for a direct commission to the Army Nurse Corps, then later accepted and was sworn in as a 2LT in the Ohio Army Reserve in June 2001, as a Med-Surgical Nurse (66H).  In 2002 I relocated to Detroit, MI and continue to serve as a Med-Surgical Nurse in the 323rd Combat Support Hospital in Southfield, MI, traveling and training throughout the US.
In 2008 I transferred to the Michigan Army National Guard, Medical Detachment Unit, in Detroit MI, as a Nurse Case Manager.  As a military nurse case manager I served as a Clinical Care Coordinator for the Michigan Army National Guard, responsible for identification, tracking, and the care coordination of our military soldier's medical readiness. As a case manager, I also served as the subject matter expert and advocated for care coordination throughout the medical evaluation process with the soldiers.
One of the most memorable opportunities I have had during my time in the military was when I was selected to travel to Liberia, to train and educate the Liberian soldiers on Preventive Medicine, what an awesome experience. This opportunity set the stage for my next military adventure. I attended a 4 month course in Preventive Medicine and received certification as an Army Public Health Nurse (66B) and a Disease Intervention Specialist.
While taking advantage of the Montgomery GI Bill and the military Tuition Assistance Program I have successfully obtained my Master's in Nursing. As I continue to serve my country, as Maj.  in the Army National Guard, it is a privilege to work, mentor and advise Veterans pursuing the nursing journey, that I too, have traveled