Davenport University Library Services

Davenport University Libraries are centers of learning, facilitating the educational journeys of students, staff and faculty by providing Library services, Tutoring, Testing, and Computer Labs. We're not just a place, we're a service.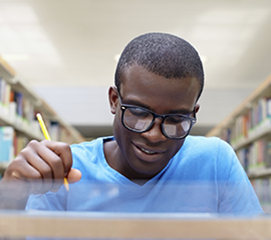 Students, staff and faculty, login to see ALL your options!
Databases*
(Maintenance
outage on Sun.
5/19 5am-5pm)
DATABASES WILL NOT BE AVAILABLE SUNDAY, MAY 19th 2013 FROM 5AM-5PM DUE TO A MAINTENANCE OUTAGE.
We apologize for any inconvenience.
Davenport University Libraries are available at nine of our campuses. Check out the targeted resources Davenport has for you or...spend hours of searching on Google to come up with a handful of sources for your assignment. It's your choice. Get free tutoring in subjects that are slowing you down. Let us be your personal resource assistants! You can:
Get Help - Fill out an Online Form:
Journal/magazine articles
Company information
Marketing and financial data
Demographic statistics
Business case studies
Business plans
Health sheets

Nursing case studies
Legal cases
Biographies
Social issue debates
Literary criticisms
and much more
Physical objects in our libraries
Links to electronic resources

Books
DVDs
Paper magazines/journals

e-books
websites in our subject areas
Contact us:
Follow us on Facebook or Twitter (icons to the left)
See what we've been pinning on Pinterest (icon to the left)