Career Services

Davenport University provides life-long career services to current students and alumni using the latest resources available in the market today. Whether you are a student, alumnus, or an employer looking for qualified candidates, we can help.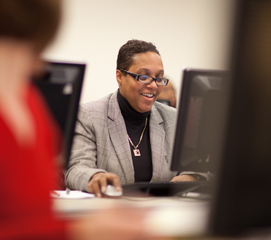 Student & Alumni Job Board & Events and Workshops: DUCareerNET
Employer & Recruiter Job Postings & Resume Books: DUCareerNET
Upcoming Events:
Etiquette + Networking = a "Netiquette Event" at Davenport's Battle Creek Campus!
June 4th at Clara's on the River from 5:30 - 7:30 pm. Join area employers, DU students and alumni for an interactive, fun evening while learning the do's and don'ts of networking and professional etiquette. Appetizers and refreshments are included!
Register now for this great event!
Career Services: Connecting our students and alumni with community.
Current Students Get information on internships, full and part time opportunities. Also, learn about identifying industries, employers and positions that fit your goals.
Alumni Refresh your professional brand, and identify opportunities to mentor, recruit and engage in the classroom through Career Services.
EMPLOYERS
Let us be your recruiting team. Employers can post full time, part time and internship positions, review resume books, or register for events. Contact career services for recruitment assistance or to participate in our professional development programs.
FACULTY & STAFF:
Use the resources found on our Faculty and Staff page to support the programs you teach and contact career services for classroom presentations and collaboration in the classroom!
PROSPECTIVE STUDENTS & PARENTS:
Our Professional Development Plan has many ways to for you to "Get Where The World Is Going." Career Services offers complete programming and support from your first semester through graduation and beyond. Browse our Prospective Students page to learn more.