Skip to Program Curriculum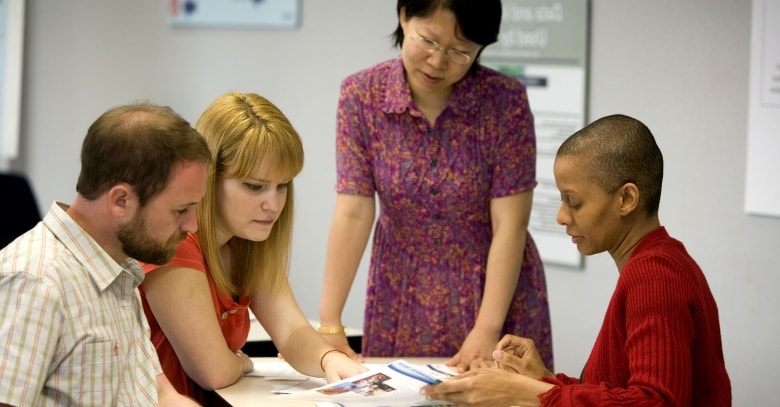 Bachelor of Applied Science (BAS) and Bachelor of Social Work (BSW)
What Does a Social Worker Do?
The primary mission of the social work profession is to enhance human well-being and help meet the basic human needs of all people, with particular attention to the needs and empowerment of people who are vulnerable, oppressed, and living in poverty (NASW Code of Ethics, 1996). Emphasis is placed on preparing students with a beginning theoretical understanding that will enable them to work with individuals, families, groups, organizations, and communities. Attention is also placed on helping students to think globally/internationally in the field of social work. Students who complete the social work major will be prepared for graduate education. Social Workers work in a variety of settings including hospitals and clinics, nursing homes, community mental health clinics, private practices, state and local governments, schools, universities, substance abuse clinics, and military bases. Clinical social workers must have a Master's Degree.
Employment Outlook
Employment of social workers is expected to grow by 25 percent from 2010 to 2020 and employment of child, family and school social workers is expected to grow by 20 percent, both projections faster than the average of all occupations during the same timeframe (US Bureau of Labor Statistics, www.bls.gov/ooh/community-and-social-service/print/social-workers.htm).
Back to Top
Full Curriculum
BACHELOR OF APPLIED SCIENCE  •  127 CREDITS  •  INT PRO BAS
The Bachelor of Applied Science (BAS) Degree Program in Integrative Professional Studies prepares students to enter the social work profession in a variety of organizations including health and social services agencies. This is a unique program that partners with Kuyper College in Grand Rapids, Michigan. The credits students take from Davenport University are transferred to Kuyper College where students complete additional coursework, leading to a nationally accredited Bachelor of Social Work degree, conferred by Kuyper College. Upon completion of the Kuyper coursework, a Bachelor of Applied Science in Integrative Professional Studies is awarded from Davenport University. The Bachelor of Social Work is fully accredited by the Council on Social Work. 
 
Which class should I take? When should I take it?
2016-2017 Recommended Program Sequence for Integrative Professional Studies, BAS and printable pdf download
Foundations of Excellence
25 cr.
ACES100 or HLTH101
Achieving Career and Education Success or Introduction to Health Careers
3 cr.
BIOL120
Essentials of Anatomy and Physiology
4 cr.
COMM120
Presentation Techniques
3 cr.
ENGL109
Composition
3 cr.
ENGL110
Advanced Composition
3 cr.
MATH125
Intermediate Algebra
3 cr.
PSYC101
Introductory Psychology
3 cr.
SOCY101
Introductory Sociology
3 cr.
| Interdisciplinary Major | 36 cr. |
| --- | --- |
College of Arts and Sciences Courses
(15) cr.
PSYC201
Abnormal Psychology
3 cr.
SOSC201
Diversity in Society
3 cr.
STAT219 or STAT220
Introduction to Biostatistics or Introduction to Statistics
3 cr.
ENGL311
Professional Writing
3 cr.
D.W. Maine College of Business Courses
(9) cr.
BUSN210
Professional Ethics
3 cr.
MGMT211
Management Foundations
3 cr.
MGMT321
Organizational Behavior
3 cr.
College of Health Professions Courses
(12) cr.
HLTH230
Health Care Law and Ethics
3 cr.
HSAD301
Cultural Issues in Health Care
3 cr.
PSYC127
Healthy Living
3 cr.
PSYC303
Psychosocial Health Concerns
3 cr.
| Elective at 300 level or higher from any College | (3) cr. |
| --- | --- |
| Kuyper Social Work Transfer Specialty | 42 cr. |
| --- | --- |
| Kuyper Bible and Theology Core Transfer | 21 cr. |
| --- | --- |
| Kuyper Cultural Immersion Transfer | 3 cr. |
| --- | --- |