Congratulations, Class of 2021!
You earned it. This is your chance to walk across the stage.
We know this isn't the ideal way to celebrate your big day and the hard work you have poured into your studies over the years, however, given the unusual circumstances, it's the safest. With much discussion, our team has decided to move your ceremony to a drive-through format — replicating that of a standard in-person ceremony as closely as possible while ensuring that all faculty, staff and students remain safe and socially distanced. 
Please note that graduates are limited to one car for the ceremony. But don't worry about anyone missing your big day. We will also be live-streaming the event on this page for any guests who cannot fit in the one car you bring to the ceremony.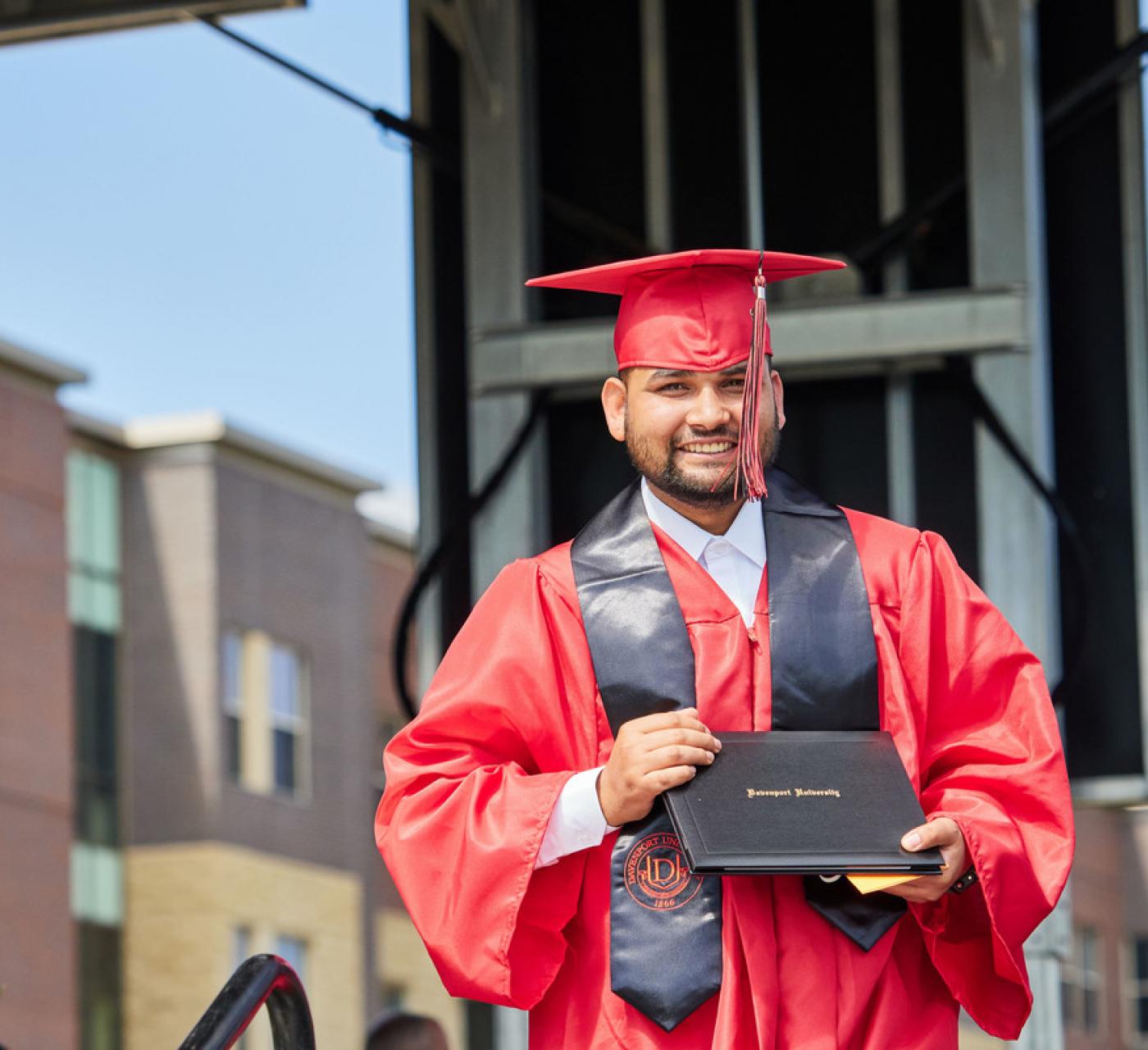 Drive-through commencement details
Sunday, May 2, 2021 – Davenport University W.A. Lettinga Campus
The event will begin at 10:30 am.  Arrival times will be scheduled based on college and communicated following RSVP.
Join us as we celebrate your big accomplishment and a degree well-earned. Our drive-through, socially distanced commencement is your chance to hear remarks from Davenport University President, Dr. Richard J. Pappas, walk across the outdoor stage and pose for a professional picture in your cap and gown.
Graduates will be asked to enter the W.A. Lettinga Campus from its North entrance (closest to 60th street).

Once entered, they will be directed to line up in Parking Lots F, E, D and C based on college.

In the order they enter, cars will then be directed by section to Parking Lot K.

Once in Parking Lot K, the graduate will be asked to get out of their car and walk to the stage that will be set up on the North side of the College of Business (Building 8 on the Campus Map).

Once at stage, the graduate will walk across the stage, have their name read aloud, photo taken, receive diploma cover and then exit the stage.

After exiting the stage, the graduate will then proceed to have another photo take before returning to their car.

Once the graduate is back in their respective car, they will be directed out of the campus' South entrance (closest to 68th street).  To ensure safety, graduates and guest will not be permitted to gather on campus following the event.
Graduates will only be allowed one car for the drive-through ceremony.  The car may have guests but all guests are asked to stay in the vehicle while the graduate walks across the stage. Party busses and limousines are permitted. 
You must RSVP by April 23, 2021.
No, you do not need to do anything.
In the event of light rain, we will proceed with the event as scheduled. If severe weather is in the area or predicted, we will make every attempt to delay up to two hours but may need to cancel.  Our top priority is the safety of our graduates, guests, faculty and staff. Check this page for updates.
Watch the live recording of Davenport University's 2020 drive-through commencement
Contact Office of the Registrar
6191 Kraft Ave.
Grand Rapids, MI 49512
United States