Davenport University will continue to waive the standardized test (ACT/SAT) requirement for the 2022-2023 academic year. Please continue to send in your student's official high school transcript for review.
Welcome, high school counselors
At Davenport University, we're committed to helping your students on their educational journey.
We know that as a high school counselor, you wear a lot of hats. That's why we want to help you help your students find the institution that best fits them and best aligns with their educational goals. So, take a look below at some of the resources we've compiled and let us know if you have any questions –– we're here to help.
The Davenport difference:
  

A relevant, career-centered education

Part of what sets Davenport apart from other colleges in Michigan is our career-focused, practical curriculum. For example, students can begin taking courses within their major during freshman year.  
  

Financial aid

At Davenport, our mission is to provide each and every one of our students with the means to pursue an education that will help them achieve the career of their choice. See what we can do for your students by visiting the financial aid page. Today, 100% of incoming freshmen receive a scholarship or gift aid each year. 
  

Campus tours and other engaging events

We know how important it is for students to visit the colleges they are interested in before selecting their university. That's why Davenport makes it easy to attend events your students are interested in or tour the campus. 
  

Davenport's Dual Enrollment

Help your students get a head start on college at a discount by taking advantage of our dual enrollment program. 
  

Net price calculator

When it comes to paying for college, knowledge is power. With Davenport's college net price calculator, you can take the guesswork out of what your education will actually cost. 
  

High school brochure

Davenport has created a brochure for your high school students. Students can learn more about Davenport University and our unique approach to education that focuses on ensuring our graduates rise to the top of the job market.  
FAFSA opens October 1 - Davenport's ID code is 002249
Scholarship deadlines:
Steps for enrolling at Davenport
Apply for online admission at davenport.edu/apply
Request official high school or GED transcripts. Here's where you can mail or email them:
 

Davenport University
Registrar's Office
6191 Kraft Ave. SE
Grand Rapids, MI 49512

Electronic transcripts can be sent to electronictranscripts@davenport.edu

Submit SAT/ACT scores to DU*
 

SAT code - 1183, ACT code - 1981

NOTE- Davenport's nursing programs require an additional, competitive application
*Davenport will continue to waive the standardized test (ACT/SAT) requirement for the 2022-2023 academic year.
Already accepted? Here's what's next:
Making it easy for students to find their home at Davenport University
At Davenport, students find a diverse, energetic community that offers them more opportunities. More opportunities to connect with friends, get involved, compete in their favorite sports and, most importantly, more opportunities that will make sure they graduate ready to tackle one of the nation's fastest-growing careers.
Are your students curious about what our campus has to offer?
We encourage them to take this fifty-two-second tour around our campus and into each of the buildings on our W.A. Lettinga Campus in Grand Rapids, Michigan. From a state-of-the-art business building and recreation center to residence halls that offer them a private-bedroom and shared living space, we think they'll enjoy what Davenport University can offer them both academically and recreationally.
About Davenport University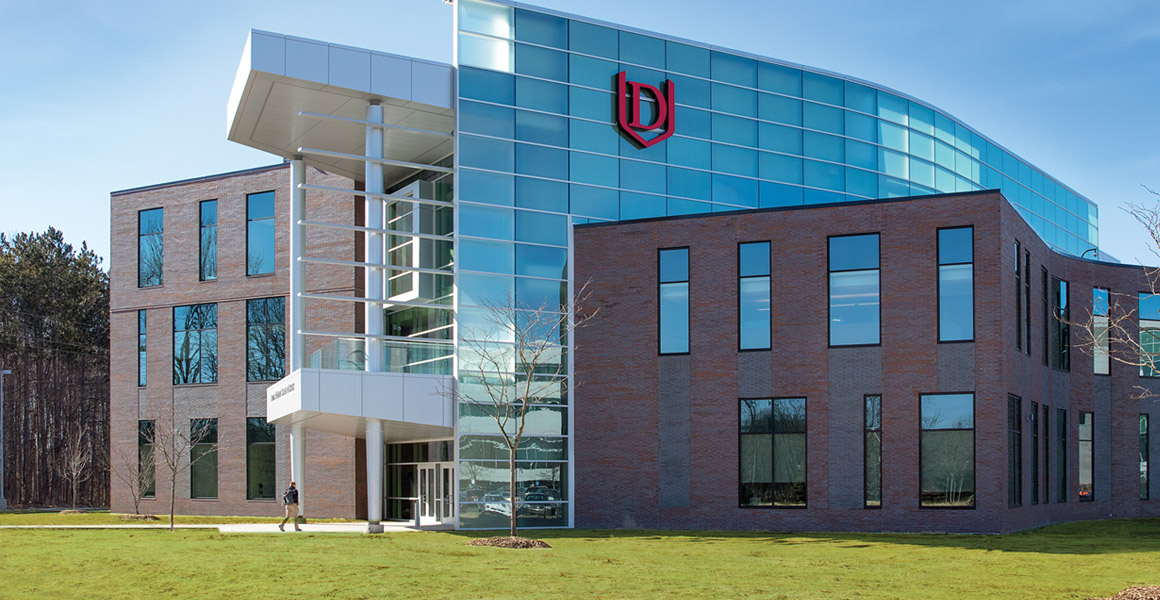 Founded in 1866, Davenport is a private, non-profit university serving about 6,500 students at campuses across Michigan and online.
With tuition among the lowest of all private universities in the state, Davenport provides high academic quality, small class sizes, conveniently located campuses, faculty with real-world experience and more than 60 dynamic undergraduate and graduate programs addressing in-demand careers in business, technology, health professions and urban education.
Contact admissions
6191 Kraft Ave SE
Grand Rapids, MI 49512
United States