Master of Science in Computer Science, MS
Skip to Program Curriculum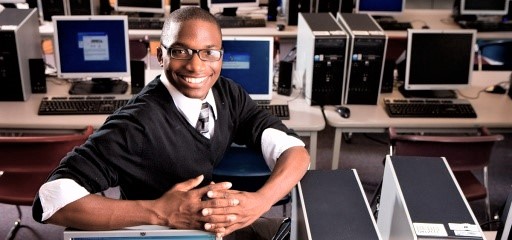 Master of Science in Computer Science
Further your computer science career.
The Master's Degree in Computer Science (MSCS) is designed to prepare students for professional level Information Technology positions by furthering their understanding and deepening their knowledge in high-demand areas such as computer vision, artificial intelligence, pattern recognition, and secure programming. Demand for the higher level of software development and IT leadership skills developed in this performance-centered degree will position yourself for success at the forefront of technology and computing. Forbes recently ranked a Master of Science in Computer Science as the third best career salaries out of 200 graduate-level degrees.
A Master Degree in Computer Science projects to potential employers that you not only have knowledge in computer science as a discipline, but you also have studied CS in detail, and have additional depth in a particular specialty. Students are required to complete 18 credits in our computer science core curriculum. Once completed, you will then choose between three concentration areas to complete your master degree. Davenport offers the following concentration competencies: Computer Science and Security.
Davenport offers course credit for specific certifications. In addition, certification exams are highly recommended after completing certificate related courses. See our certification page for additional information.
The MS in Computer Science may be completed in-seat or online.
Download a PDF of the Master of Science in Computer Science degree.
Program Components:
30 credit program that can be offered in-seat and online
Opportunity for students to choose 2 concentrations – Computer Science or Security.
Choice of Thesis Research or Thesis Project to allow for the emphasis of practical application
Recently added Bachelor of Science in Computer Science provides an immediate opportunity for students looking to pursue a graduate degree in their field
Minimal prerequisites for current students in a technology major at DU (as well as some other Universities)
Expedited path for non CS/Technology undergraduate majors to enter program
Calculus I, Level 1 & 2 Object Oriented Programming, Data Structures
Differentiators:
Degree focuses on more than just the theoretical concepts, but also the application
Students choose thesis research or project to enhance the flexibility of their career focus
This program is seeking recognition by the National Security Administration (NSA) and the Department of Homeland Security (DHS) as a Center of Academic Excellence (CAE).
Concentrations that allows focused depth of knowledge
Minimal number of online competitors
Back to Top
Full Curriculum
MASTER OF SCIENCE IN COMPUTER SCIENCE     •  30 CREDITS     •  COMP SCIE MS
The Master Program in computer science emphasizes software development, theoretical foundations of computer science and cyber security. It is designed to prepare students for professional positions in industry, government and business, and to provide preparation for graduate work at the doctoral level.

Preadmission Requirements:
Completion of a Bachelor of Science in Computer Science 
Students without a BS in Computer Science may need to complete the following courses
•  CSCI531 Introduction to Programming
•  CSCI534 Object Oriented Programming with C#
•  CSCI545 Data Structures and Algorithms
•  MATH515 Calculus I
Which class should I take?  When should I take it?
2018-2019 Recommended Program Sequence for Master of Science in Computer Science, MS:
Computer Science, MS - Concentration: Computer Science and printable pdf download
Computer Science, MS - Concentration: Security and printable pdf download
Computer Science Core Courses
18 cr.
CSCI635
Operating Systems
3 cr.
CSCI655
Data Communications and Networking
3 cr.
CSCI672
Theory of Computation
3 cr.
CSCI728
Design and Analysis of Algorithms
3 cr.
Thesis/Project (More details on the Master Research Thesis or Master Project may be found in the Capstone Guidebook available from your faculty advisor)
(6) cr.
CSCI794 or CSCI798
Master Project or Master Research Thesis
6 cr.
| Choose one of the following Concentrations: | 12 cr. |
| --- | --- |
Computer Science Concentration [CSCC]
(12) cr.
CSCI678
Artificial Intelligence
3 cr.
CSCI744
Pattern Recognition and Machine Learning
3 cr.
CSCI756
Computer Vision
3 cr.
CSCI784
Secure Software
3 cr.
Security Concentration [SCCC]
(12) cr.
CSCI784
Secure Software
3 cr.
IAAS667
Legal and Ethical Security Topics
3 cr.
IAAS686
Reverse Engineering Malware
3 cr.
IAAS735
Advanced Computer Forensics
3 cr.
<!–– program json structured data ––>