Learn to market for today's competitive environment
Bachelor of Business Administration - Marketing (120 credits)
Gain the marketing and analytical skills you need to engage through social media, digital and web platforms with the BBA in marketing at Davenport University. Learn to create content, manage marketing plans and use data to drive decisions with a degree in marketing that reflects today's rapidly changing industry. 
Become the marketing professional that companies are searching for to make their messages heard with a bachelor in marketing that's accredited by the International Accreditation Council for Business Education (IACBE).
You can earn an online marketing degree through Davenport's ground-breaking Global Campus or take your business and marketing degree courses on Davenport's campus in Grand Rapids. With either path — or a blend of both — you'll learn from Davenport faculty who bring experience from their careers in marketing to the classroom.   
What is marketing?  
The American Marketing Association (AMA) defines marketing as "the activity, set of institutions, and processes for creating, communicating, delivering, and exchanging offerings that have value for customers, clients, partners and society at large." With a BBA in marketing, you'll be prepared to help companies elevate their messages in today's crowded and noisy marketplace.
With your Davenport BBA in marketing in hand, you'll have business and marketing skills you can put to work immediately in your career in marketing. And since Davenport's degree in marketing was developed with input from industry leaders, you can be sure you're equipped with the knowledge and insights that today's employers demand.
Explore classes for Davenport's business and marketing degree
Davenport's bachelor in marketing reflects what's happening in real time in marketing with curriculum based on research, employer feedback and current marketplace trends. Learn from Davenport's industry experts whether you're taking in-person classes or earning your online marketing degree. Build your portfolio with in-demand marketing certifications embedded into your bachelor in marketing courses. Choose a general major in marketing or specialize in digital marketing and promotion or marketing technology. 
Choose 6 (six) electives from the lists below, the BBA Honors Specialty, or choose one of the following specialties:
(12-18) Credits
Which class should I take? When should I take it?
See our Recommended Program Sequences:
What can I do with a marketing degree from Davenport?
The BBA in marketing at Davenport gives you tactical skills you can use in various careers in marketing, such as the ability to manage social media, create content and update web pages. Through the bachelor in marketing, you'll gain the business and marketing know-how to manage information using digital technologies and to develop strategies that leverage and integrate information into marketing plans — for any company or organization in any industry. 
Experience the Davenport difference:
 
  

Tailor your BBA in marketing

Choose one of our two marketing specializations that best aligns with your interests and goals for your career in marketing: digital marketing and promotion or marketing technology.  
  

Hands-on opportunities

Go beyond theory and concepts to receive hands-on tactical skills that set you up for success in today's marketplace. Graduate with a degree in marketing and a portfolio that shows off your work. 
  

Real-world experience

Build real skills you can use in your career in marketing through a BBA in marketing that includes a built-in internship — or an internship course — where you'll work with an actual client.  
  

Industry-relevant certificates 

Earn your degree in marketing and up to four credentials through certifications that are integrated into your coursework, including Google Analytics and HubSpot Inbound Marketing. 
Hear from marketing alumni about the Davenport difference
Listen to Emily's thoughts on how she felt the marketing program made a difference in her career
Get started on your business and marketing degree 
Explore the admissions requirements and then take the next step toward earning your BBA in marketing at Davenport.    
 
Talk to an admissions advisor
Davenport's admissions team is here to answer your questions. Please call us at 800.686.1600 or email us at info@davenport.edu.
Davenport programs related to the BBA in marketing
About Davenport University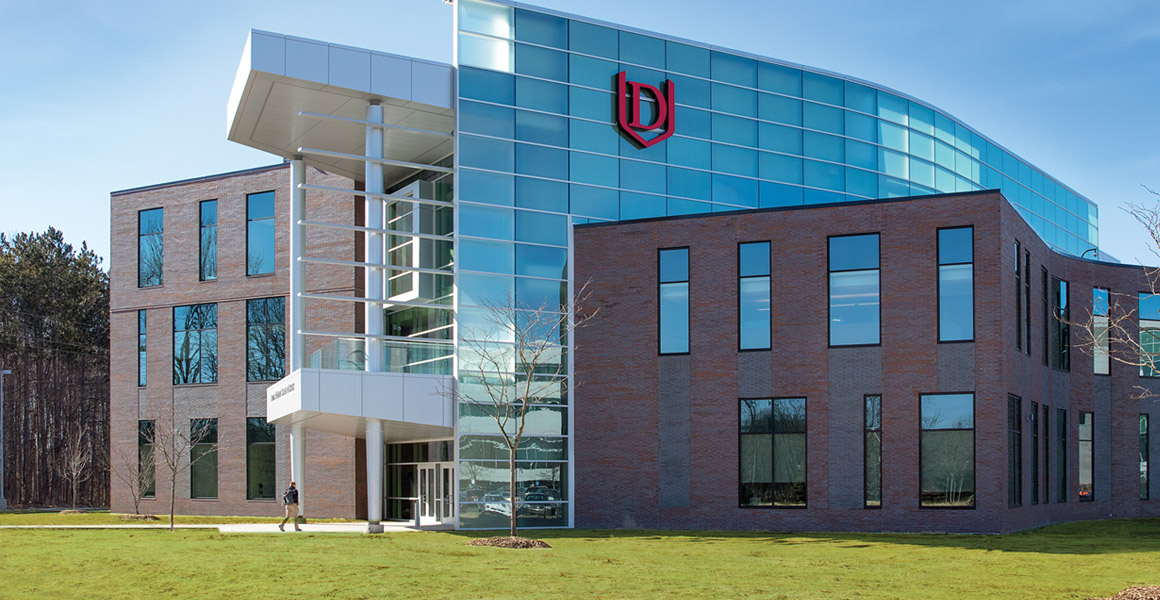 Davenport is a private, not-for-profit university with more than 150 years of experience preparing students for successful careers.
Offering over 60 bachelor's and master's degree programs, we align with top employers to design degree programs that help you gain the skills and real-world experience you need to rise above the rest. With small class sizes and campuses across Michigan or online, you'll earn a quality education on your schedule at Davenport University.