Get started on your journey to a nursing degree
Bachelor of Science in Nursing (120 credits)
Begin your path to a successful career as a nurse through the bachelor of science in nursing: pre-licensure program at Davenport University. The bachelor of science in nursing fully prepares you for licensing exams and builds a solid foundation for your future in nursing. In fact, we're so confident our nursing program will lead you to a career as a nurse within six months of graduation that our nursing program qualifies for Davenport's Employment Guarantee. 
Unlike some nursing schools, Davenport allows you to apply as a freshman and know you have a seat in our nursing program without taking any prerequisites. That means you can start taking nursing-related courses from Davenport's expert faculty and gaining hands-on experience through nursing clinicals during your sophomore year.
Davenport's nursing degree is offered on our campuses in Warren, Grand Rapids, Lansing and Midland and is designed for students with no prior nursing experience.  Grants and scholarships, including a $8,000 nursing scholarship, are available for our Warren, Lansing and Midland campuses.
CCNE-accredited nursing program  
Davenport's nursing program is accredited by the Commission on Collegiate Nursing Education (CCNE), the gold standard of accreditation for nursing schools. CCNE accreditation means you can be assured of the quality and integrity of our nursing program. Earning a bachelor's degree in nursing from an accredited nursing program is especially important for admittance into grad school.  
Explore classes for Davenport's nursing degree
Through this full-time nursing program, you'll take a range of courses to prepare for a career as a nurse. You'll get advanced cardiac life support training and the opportunity to explore two specialties during your medical/surgical rotation. Davenport's supportive and caring nursing faculty and staff get to know you and what you need to thrive. They'll create a customized Student Care Plan if needed to help you succeed in nursing school. 
Which class should I take? When should I take it?
See our Recommended Program Sequences:
1:1
Customized and personal attention and care from nursing faculty
100%
100% of graduates are employed in nursing within 6 months
2
Experience different nursing roles through 2 specialty intensives
$1M
Each campus has a $1M+ lab with state-of-the-art simulations
3
The average nursing student is on campus for classes or at their clinicals 3 days per week
Why a bachelor's in nursing at Davenport University?
Whether you're coming from high school or community college or already working as an RN, ADN, LPN or EMS, there are many pathways into Davenport's nursing program. Whichever path you choose, you'll have the 1:1 support of Davenport's caring nursing faculty and staff. These and other differentiators of Davenport's bachelor in nursing lead to higher-than-average NCLEX exam scores and 100% employment in nursing. 
Experience the Davenport difference:
  

Credit for experience

Whenever possible, Davenport will help turn your existing job in health care, military background and credentials into credits.
  

Licensing exam prep

Prepare to take — and pass — licensure exams with the help of nursing faculty who will coach you and give you extra assistance. 
  

Above-average scores

Our graduates score higher than average on the NCLEX and are highly sought after by leading health systems across Michigan.
  

No waiting for experience

Through the bachelor in nursing, you'll start clinicals in your sophomore year so you receive three years of focused experience.
  

Finish in 4 years

Unlike some nursing schools, you can finish your bachelor of science in nursing at Davenport full-time in four years, not five. 
Get started on your bachelor's in nursing
Explore the admissions requirements and then take the next step toward earning your nursing degree at Davenport. 
Talk to an admissions advisor
Davenport's admissions team is here to answer your questions. Please call us at 800.686.1600 or email us at info@davenport.edu.
Davenport University Application
Official Transcripts from Colleges, Universities or Nursing Programs (if applicable)
Completion of ATI TEAS
Minimum cumulative GPA of 3.0
NURS CAS  Program Application

Two professional references
Professional statement
Criminal Background Check and Drug Screen Policy:
All students in the Davenport University College of Health Professions (the "COHP") are required to submit to criminal background check and drug screening (collectively, the "Testing") at the time of declaring a major in the COHP. The results of the Testing (the "Results"), which shall remain confidential, shall be used by the COHP to approve or disapprove of a Student for enrollment or continued enrollment in the COHP, and/or eligibility for training programs, clinical or practicum. The Testing shall be completed by registering for the appropriate course and completing the entire testing process in the course. Each student is responsible for acknowledging and explaining positive Result(s) after completing the process. A student will be dismissed from the COHP if he or she refuses to consent to the Testing. The cost of the Testing is the part of the course fee and is the responsibility of the student.
About Davenport University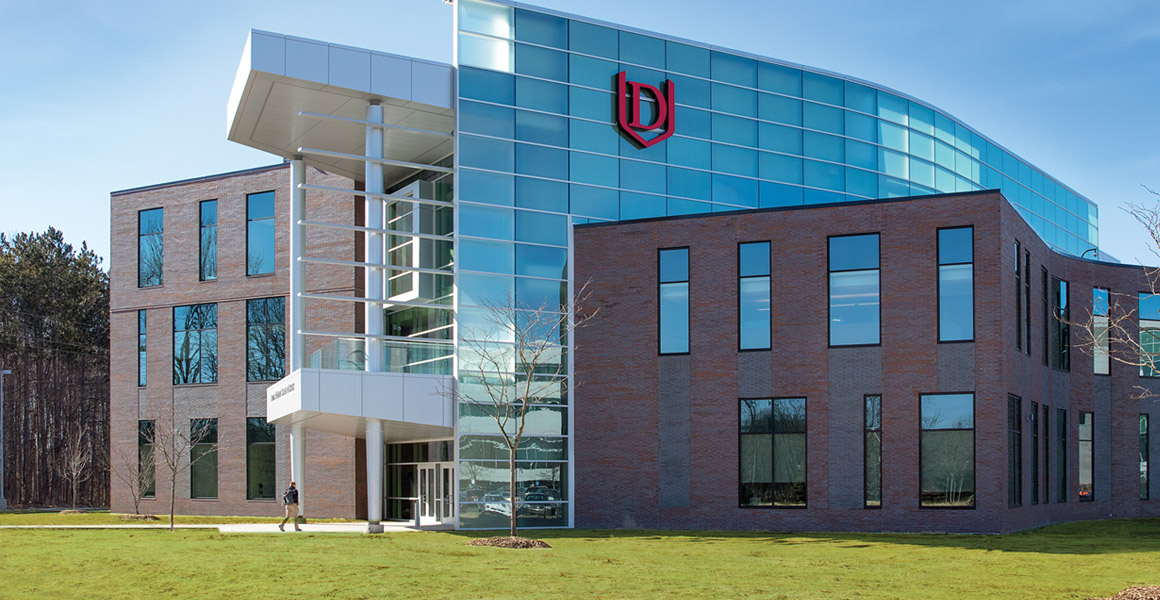 Davenport is a private, not-for-profit university with more than 150 years of experience preparing students for successful careers.
Offering over 60 bachelor's and master's degree programs, we align with top employers to design degree programs that help you gain the skills and real-world experience you need to rise above the rest. With small class sizes and campuses across Michigan or online, you'll earn a quality education on your schedule at Davenport University. 
Length of Program:
BSN-PL Grand Rapids (120 Credits) – One full cohort of 64 students accepted in the fall of each year. 
BSN-PL Grand Rapids (120 Credits)- One full cohort of 32 students accepted for Winter semester start each year. 
BSN-PL Warren (120 Credits) – One full cohort of 60 students accepted in the fall of each year. 
BSN-PL Lansing (120 Credits) – One full cohort of 32 students accepted in the fall of each year
BSN-PL Midland (120 Credits) – One full cohort of 36 students accepted in the fall of each year.  
The multifaceted roles of the practical and professional nurse are taught at Davenport University and include care provision, communication, management, and scope of practice.
Theoretical foundations shape the curricula and guide the nursing education. The Davenport University Nursing Program is a dynamic system that provides for the educational growth and development of the nursing student.  An adaptation of Fawcett's metaparadigm is utilized and includes person, environment, health, and nursing.
Person - The concept of person refers to the individual or individuals as part of culture, family, community or aggregate groups who interact with the nurse in a therapeutic manner.
Environment -The environment is made up of the physical surroundings and the settings in which the person interacts with society as a whole.  This integrates the totality of social, cultural, and religious foundations and influences. Individuals are affected by environment and, in turn, have the ability to effect the environment.
Health - The health continuum from birth to death includes physical, mental, cultural, and spiritual elements.  Wellness describes the function of a person at his or her maximum potential.
Nursing - Nursing is a caring profession that is guided by the ANA Code of Ethics and Standards of Practice. Nursing is not limited to physical care but incorporates the promotion, protection, and optimization of health.  Nursing practice is guided by research which contributes to the delivery of evidence-based practice.
The following learning objectives were developed by the faculty with the use of nursing criteria referenced in the MI Public Health Code, The Michigan Board of Nursing Curriculum Rules, the DU Excellence System, adaption of Fawcett's metaparadigm, and the ANA Code of Ethics.
STUDENT/GRADUATE LEARNING OUTCOMES – CHARACTERISTICS OF THE GRADUATE
Provide care appropriate to the scope of practice and ethical dimensions for one's own actions according to the ANA Standards of Practice.
Practices within an ethical and legal framework and standards of professional nursing practice.
Models accountability and responsibility for one's own actions, clinical judgments, and decision making.
Demonstrates ethical and legal decision making surrounding health care dilemmas.
Advocates and protects patients and organizational confidentiality.
Utilize evidence-based practice, critical thinking, cultural awareness, and the nursing process in collaboration with the interdisciplinary health care team.
Assesses wellness, health needs, and risks of individuals, families, groups and communities.
Plans and provides holistic, culturally-sensitive, safe, and effective therapeutic nursing interventions in collaboration with individuals, families, groups, and communities in multiple settings.
Evaluates patient outcomes and the effectiveness of professional nursing practice.
Revises plan of care as appropriate in collaboration with individual, family, group, community, and members of the interdisciplinary health care team.
Evaluates research and evidence-based information for application to nursing.
Engage in comprehensive, verbal, and written therapeutic communication skills to interact with patients.
Incorporates therapeutic communication skills in interactions with individuals, families, groups and communities.
Communicates effectively with individuals, peers, families, groups, communities, and members of the interdisciplinary health care team.
Demonstrates appropriate college-level writing and verbal skills consistent with published expectations and standards.
Utilizes technology for seeking, sorting, selecting, and presenting relevant information.
Manage holistic care for patients, families, and communities with complex health needs in a variety of settings.
Distinguishes leadership and management roles in guiding members of the interdisciplinary healthcare team.
Formulates a consumer-oriented approach in the delivery of cost-effective care.
Prioritizes therapeutic goals for providing quality care in collaboration with individuals, families, groups, and communities.
Delegates appropriate functions to licensed and non-licensed caregivers in a manner consistent with the Michigan Public Health Code- Nursing.
Performs selected supervision activities related to the actions of licensed and non-licensed caregivers.
Interim Associate Dean of Nursing: Aleta Pillai, PhD, MSN, RN
Department Chair for Nursing: Tracy Alberta, MSN, RN
Nursing Administrative Assistant: TBD
Associate Department Chair: Deborah Bosworth, MSN, RN
Simulation Lab/Clinical Coordinator: Shellie Raisanen, MSN, RN, Kimberly Korhorn MSN, RN
Campus Faculty: Janine Blakeslee Ed.D., RN, CNE, Margaret Smith, MSN, RN, Julie Polanic, MSN, RN, Amanda Alemdar, MSN, RN, Heather Kooiker, MSN, RN, CNL, CNOR, CRNFA, Cassandra Cummings, DNP, RN, CPNP-PC, Carrie Monaghan, MSN, RN, Sarah Hansen, MSN, RN
Program Director: Michelle Hagstrom, DNP, RN
Simulation Lab/Clinical Coordinator: Katie Robinson, MSN, RN
Campus Faculty:  Margaret Hovey DNP, RN, Sarah Brooks, DNP, RN
Associate Chair: Cherie Reitzel, MSN, RN
Simulation Lab/Clinical Coordinator: Janetlynne Erickson, MSN, RN
Campus Faculty: Sharon Long PhD, RN, Lynette Zigo, MSN, ANP-BC, Amanda Binge, MSN, RN, Gideon Njankwi, DNP, RN
Associate Department Chair: Kim Garza, DNP, MSN, RN
Simulation Lab/Clinical Coordinator: Samantha Fletcher, MSN, RN
Campus Faculty: 
Program Director BSN Completion/Concurrent: Aleta Pillai, PhD, MSN, RN
Online Teaching and Learning Coordinator: Karen Benjamin
MSN/FNP Online
Program Director MSN/FNP: Aleta Pillai PhD, MSN, RN
Clinical Coordinator Online FNP: Marlo Schepers, MSN
Online Gratuate Faculty: Jessia Abernathy, DNP, WHNP-BC, CNM, FNP-BC, Annette Mannion, MSN, CRNP, IBLC