Master of Science in Data Analytics, MS
Skip to Program Curriculum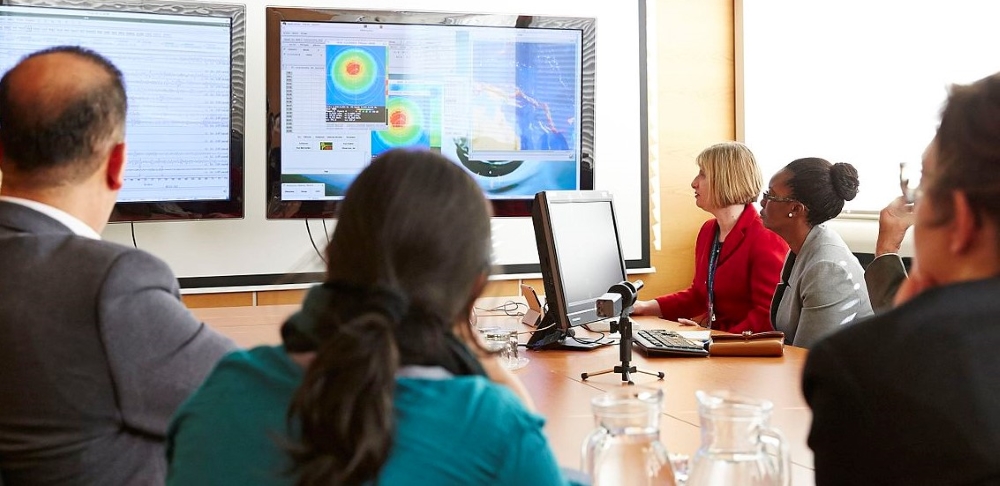 Data Analytics, master of science
The curriculum is part of DU's continuing efforts to identify and respond to strong need in the marketplace. The program allows participants to focus on real-world examples from their industry and will provide exposure to many of the software programs used in data analytics, as well as develop advanced communication and presentation skills.
Training in data analytics can open many career doors. It is estimated that 30% of American Corporations do not know how or why they should implement data analytics efforts, yet it is also estimated that 1.5 million managers will need fluency to make policy decisions to optimize company resources. The Certificate version of this program would suit those needs. It is estimated that an additional 140,000 to 190,000 jobs for graduate-trained employees as business analysts, marketing analysts, applications analyst, informatics analysts, and fraud or risk analysts will become available by 2018. The master's degree would serve those needs.
Who Is Eligible?
Individuals with a bachelor's degree in engineering, science, math/statistics, finance, computer science, accounting or marketing who enjoy statistical and analytical thinking may excel in this field. Applicants should have at least a Bachelor's degree with strong quantitative and analytical skills and an undergraduate GPA of 2.75 or higher, or a graduate GPA of 3.0 or higher.
Graduate Certificate in Data Analytics
Davenport University also offers the opportunity to earn a graduate certificate in Data Analytics. This 12-credit certificate can be completed after earning your bachelor's degree in engineering, computer science, science, mathematics, statistics, computational math, or accounting. Credits for the graduate certificate can be applied to the Master of Science in Data Analytics program. Learn more about our graduate certificate in
Data Analytics
.
Additional Resources
Back to Top
Full Curriculum
MASTER OF SCIENCE IN DATA ANALYTICS     • 30 CREDITS     • DATANLYTC MS
Data Analytics is used to analyze vast databases that must be examined using complex algorithms and artificial intelligence to identify previously unidentified useful sets of relationships and trends. All aspects of the business and medical communities, as well as government agencies and non-profit organizations, rely on data analytics, yet are hampered by a growing shortage of data analysts. Davenport's 30 credit hour Master of Science in Data Analytics responds to this need. The degree is delivered jointly by the College of Arts and Sciences in partnership with the Colleges of Technology, Business and Health Professions. The program is online and prepares individuals to conduct sophisticated analysis of existing data and create new data systems and methodologies. It is also designed to enable these individuals to make recommendations that increase effective use of data to help organizations meet specific goals and respond to new opportunities. The program uses industry standard software in practical applications directly related to current trends and issues that impact organizations across a broad spectrum. Course progression and content is carefully formulated to build competency in data analysis for students from a broad range of disciplines and experiences, including those who are new to the field.
   PROGRAM ELIGIBILITY
       • Completion of a bachelor's degree from a regionally accredited university.
       • Student must have earned a minimum undergraduate GPA of 2.75 or a graduate GPA of 3.0.
       • Strong analytical skills with interest in applying sophisticated analytical methods using cutting edge software.

DATA courses are only offered in a 15-week online format.

Which class should I take? When should I take it? 
2019-2020 Recommended Program Sequence for Data Analytics, MS and printable pdf download
Core Courses
12 cr.
DATA610
Essentials of Business Analytics
3 cr.
DATA625
Data Mining
3 cr.
DATA667
Data Visualization and Communication
3 cr.
DATA710
Introduction to R Programming
3 cr.
Advanced Courses
15 cr.
DATA728
Advanced Data Mining
3 cr.
DATA742
Principles of Data Warehousing
3 cr.
DATA758 or DATA790
Essentials of Cloud Computing or Data Analytics Internship
3 cr.
DATA772
Statistical Analysis for Data Analytics
3 cr.
DATA785
Predictive Modeling
3 cr.
Capstone Project
3 cr.
DATA792
Data Analytics Capstone
3 cr.
<!–– program json structured data ––>