Learn to run any business with Davenport's MBA
Master of Business Administration (30 or 39 credits)
Go beyond learning about business to learning how to run a business through the master in business administration (MBA) program at Davenport University. Finish your MBA in less time by choosing Davenport's flexible 30-credit option or pick Davenport's 39-credit master's degree in business and take a deep dive into one of our nine concentrations. 
Searching for Michigan "online MBA no GMAT" programs? Davenport has just the answer. Our online MBA program is available through our pioneering Global Campus, Michigan's first online learning community. You can also pursue your master in business administration in-person — full-time or part-time — on Davenport's Michigan campuses in Detroit, Grand Rapids, Lansing, Midland and Traverse City. 
Whether you choose Davenport's online "MBA no GMAT" program or our on-campus option, you'll learn from expert faculty who will give you the knowledge and skills you need to run your own company or excel in MBA jobs at leading companies and organizations around the world.
Move forward with a master in business administration
If you're looking to launch or advance your career in business, an MBA is a great choice. What is an MBA degree? MBA stands for "master of business administration." This well-respected business administration degree helps you develop the skills you need to excel as a business executive, such as the ability to quickly analyze information, develop creative solutions to business problems and inspire and manage teams.
Through MBA courses at Davenport University, you'll learn all you need to know to effectively run your own business or any private, public or nonprofit organization. Whether you choose to pursue your master in business administration on-campus or through our "online MBA no GMAT" program, you'll make life-changing connections with classmates and business school faculty — connections that will last long after you earn your business administration degree.
Explore courses for Davenport's master's degree in business
Depending on your business background, your business administration degree starts with foundational MBA courses, such as fundamentals of accounting principles and concepts, management and marketing, foundations of financial management and statistics for business. Prepare for MBA jobs with courses like leading organizations, managerial accounting, and ethical and legal consideration for business. Gain real-world business experience through a capstone project in your final semester. Finalize your in-person or online MBA program with one of nine concentrations when you choose the 39-credit master's degree in business option. 
Which class should I take? When should I take it?
See our Recommended Program Sequences:
Why get a master's degree in business at Davenport?
The in-person and online MBA program at Davenport was designed for working professionals just like you. In addition to online, on-campus or hybrid options, you can also take your MBA courses full time or part time. Apply relevant work experience or certifications to earn credit toward your master in business administration degree, saving you time and money. And with a 96% graduate satisfaction rate, you can trust Davenport's master in business administration is worth your time, energy and effort. 
Experience the Davenport difference:
  

No GMAT required

Get started on your master's degree in business on one of our Michigan campuses and through our Michigan online MBA – with no GMAT requirement.

 
  

30-credit MBA

Fast-track your master in business administration with Davenport University's 30-credit in-person and online MBA program.   
  

Learn from leaders

Take MBA courses from industry-experienced leaders so you're prepared for MBA jobs in any industry, anywhere in the world.   
  

Hands-on MBA course

Build real business skills through hands-on MBA courses and experiences, like a real-world capstone simulation project. 
  

Six start dates

Begin your in-person or online MBA program whenever it's best for you with Davenport's six start dates. 
Get started on your master in business administration
Explore the admissions requirements and then take the next step toward earning your master's degree in business at Davenport. 
Talk to an admissions advisor
Davenport's admissions team is here to answer your questions. Please call us at 800.686.1600 or email us at info@davenport.edu.
Davenport programs related to the master's degree in business
About Davenport University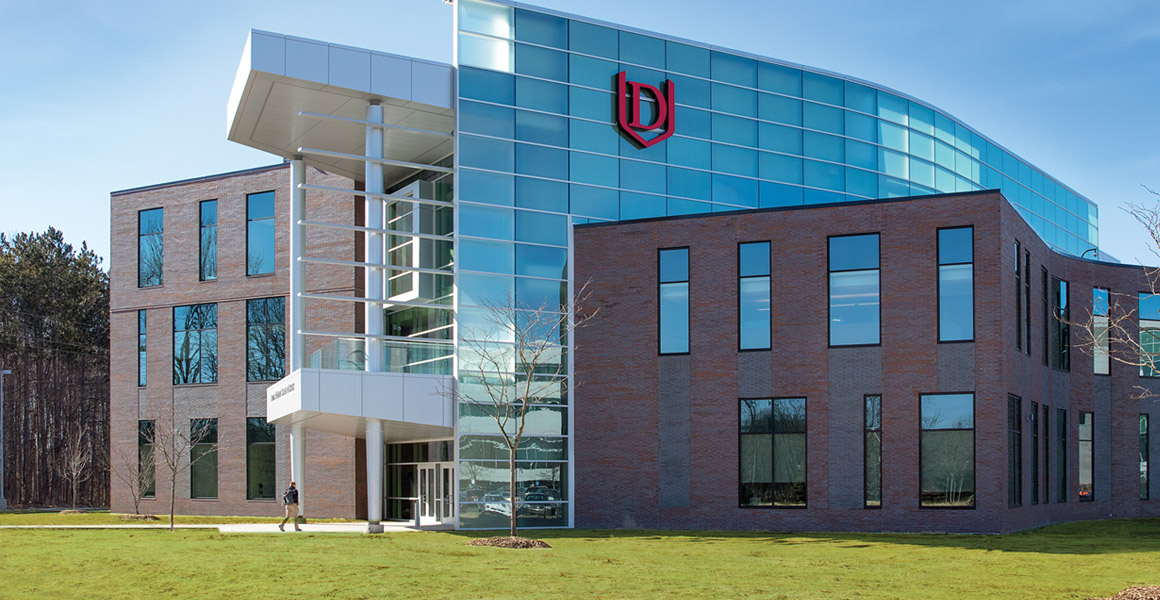 Davenport is a private, not-for-profit university with more than 150 years of experience preparing students for successful careers.
Offering over 60 bachelor's and master's degree programs, we align with top employers to design degree programs that help you gain the skills and real-world experience you need to rise above the rest. With small class sizes and campuses across Michigan or online, you'll earn a quality education on your schedule at Davenport University. 
 Apply for admission to Davenport University

To qualify for admission, you must have:

A bachelor's degree with a cumulative GPA of at least 2.75

Request official college transcripts

An official transcript is one that is provided directly by a college or university. Official transcripts are confirmed as authentic. You may contact the institution directly and request an official transcript or utilize a resource such as Parchment. 
​​​​​​Official transcripts can be emailed to: electronictranscripts@davenport.edu.

Complete the College of Business Supplement

To do so, you'll need:

Answers to short-form questions
Resume
After completing the core classes you will choose from one of the following concentrations to finalize your degree.
Admitted students are expected to have the necessary business foundations prior to entering 600-level courses. Depending on your background, you may have to take the following classes:
ACCT510     Fundamentals of Accounting Principles and Concepts
BUSN520     Management and Marketing
FINC510      Foundations of Financial Management
STAT500      Statistics for Business
Graduate Certificates provide students with the opportunity to deepen their skills in a particular subject. They may be completed at any time while taking Master of Business Administration courses provided the prerequisites are met, or may be completed as a stand-alone certificate.