Skip to Program Curriculum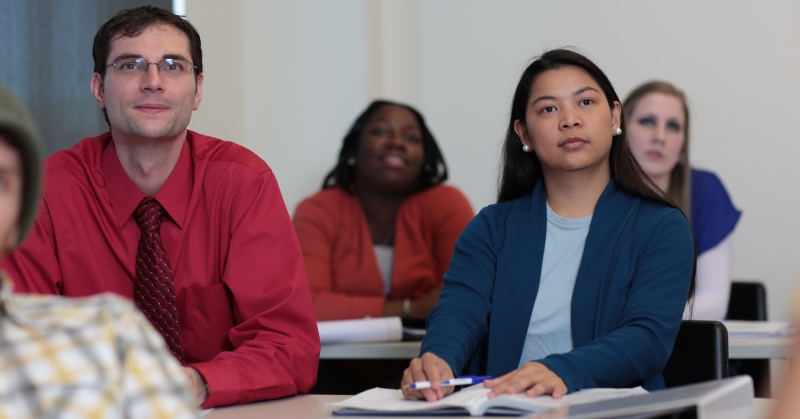 Business, Bachelor of Business Administration
Founded as a business school in 1866, Davenport University and its Donald W. Maine College of Business continues to produce outstanding business leaders. The Business degree prepares you for business-focused careers in the private, nonprofit and government sectors. Our program provides the necessary foundational skills accounting, finance, human resources and business strategy with customized emphases in such areas as entrepreneurship, international business and operations management. Many students in this program come to us with prior credits from community college, or through a prior learning assessment of your military service or professional experience conducted by Davenport. We accept up to 21 credits of open electives.
Tailor Your Degree
In addition to the core courses, Davenport University offers 21 credits of open electives. You may apply your prior credit or select a specialty to enhance your business degree. Selected areas include the following:
Supply Chain Logistics

Examine the various components of supply chain management including an emphasis on inventory control, distribution, transportation and supplier relations.

Risk Management & Insurance:

Gain comprehension of concepts of risk and risk management, how insurance fits in the risk management process, including commercial and personal insurance. Courses also prepare you for the CPCU 520 national examination administered by the American Institute for Chartered Property Casualty Underwriters.

Global Project Management:

Learn financial and risk management of project management in a global environment by focusing on activity based forecasting, estimating management reserve, budgeting, risk management and cost associated with projects. Courses are also available to prepare you for the Project Management Professional (PMP) certification examination
Back to Top
Full Curriculum
BACHELOR OF BUSINESS ADMINISTRATION  • 120 CREDITS  • BUSN BBA
The BBA Business degree prepares students for roles of planning, developing and implementing processes that improve business performance. The degree focuses on deepening skills in the major areas that contribute to an organization's value proposition through process efficiency and performance effectiveness. Graduates earn a Bachelor of Business Administration degree with a major in Business and can use elective courses to broaden knowledge to any business area or deepen knowledge through the completion of a Specialty in Global Project Management, Risk Management and Insurance or Supply Chain and Logistics. 
Which class should I take? When should I take it?
2018-2019 Recommended Program Sequences for Business Administration,:
Business, BBA and printable PDF Download: pdf download
Specialty: Global Project Mgmt and printable pdf download
Specialty: Risk Management and Insurance and printable pdf download
Specialty: Supply Chain and Logistics and printable pdf download
Foundations of Excellence
39 cr.
ACES100 or OPEN
Achieving Career and Education Success or (if exempt) Open Elective
3 cr.
COMM120
Presentation Techniques
3 cr.
DATA275
Introduction to Data Analytics
3 cr.
ECON200
Microeconomics
3 cr.
ECON201
Macroeconomics
3 cr.
ENGL109
Composition
3 cr.
ENGL110
Advanced Composition
3 cr.
ENGL311
Professional Writing
3 cr.
MATH125
Intermediate Algebra
3 cr.
STAT220
Introduction to Statistics
3 cr.
SOSC201
Diversity in Society
3 cr.
HUMN
Humanities Elective
3 cr.
SOSC
Social Science Elective
3 cr.
Foundations of Business
32 cr.
ACCT201
Accounting Foundations I
4 cr.
ACCT202
Accounting Foundations II
4 cr.
BITS211
Microcomputer Applications: Spreadsheets
3 cr.
BUSN210
Professional Ethics
3 cr.
CISP111
Requirements Planning and Development
3 cr.
FINC211
Corporate Finance
3 cr.
GPMT287
Principles of Project Management
3 cr.
LEGL210
Business Law Foundations
3 cr.
MGMT211
Management Foundations
3 cr.
MKTG211
Marketing Foundations
3 cr.
Major
28 or 40 cr.
BUSN225
International Business
3 cr.
BUSN303
Business Research
3 cr.
BUSN489 or MGMT490
Field Experience in Business or Management BBA Internship
3-6 cr.
BUSN495
Business Planning Capstone
4 cr.
MGMT357
Operations Management
3 cr.
MGMT413
Sustainable Supply Chain Management
3 cr.
RMGI221
Risk Management and Insurance Analysis
3 cr.
SCMT320
Management Systems: ERP (SAP)
3 cr.
SCMT370
Procurement and Global Sourcing
3 cr.
| Choose one of the following Specialties or choose 12 additional credits in Open Electives: | 12 cr. |
| --- | --- |
Global Project Management Specialty [CTGT]
(12) cr.
GPMT385
Project Scheduling with Agile
3 cr.
GPMT400
Project Financial/Risk Analysis
3 cr.
GPMT410
Global Sourcing for Projects
3 cr.
GPMT446/490/499
Project Quality Management or Project Management Internship or Certified Project Management Professional (PMP)? Preparation
3 cr.
Risk Management and Insurance Specialty [RMGI]
(12) cr.
RMGI454
Risk Management and Forecasting
3 cr.
RMGI455
Assessment and Treatment of Risk
3 cr.
RMGI456
Risk Financing
3 cr.
RMGI420 or RMGI457
Insurance Company Operations and Regulations or Managing Enterprise Risk
3 cr.
Supply Chain and Logistics Specialty [SCLS]
(12) cr.
LEGL320
International Business Law
3 cr.
MGMT412
Quality Management
3 cr.
SCMT430
Intermodal Transportation
3 cr.
SCMT440
Warehousing Management Systems
3 cr.
| Open Electives | 9 or 21 cr. |
| --- | --- |
<!–– program json structured data ––>