Be a force for educational equity by teaching in urban schools
Master of Education - Urban Education (39 credits)
As a student in Davenport University's Master of Education in urban education program, you'll acquire culturally responsive teaching strategies that empower students intellectually, socially and emotionally. You'll receive an exceptional, career-focused education with the convenience of livestream courses (formerly known as Real-Time Virtual) classes through our Global Campus. You'll develop cultural competencies and make a direct impact as an urban educator through hands-on work in real K-12 settings throughout the urban education masters program. 
Through mentoring and coaching, credentialed faculty will prepare you for real-world experiences with local, partnering school districts. Regular cultural intelligence assessments will offer insight into internal bias and systematic inequity.
What is an urban education master's degree?
An urban education master's degree focuses on teaching in urban schools to improve imbalances of educational equity. Whether you're a new or experienced teacher, our Master of Education in urban education will give you the strong educational equity knowledge, skills, tools and strategies you need for effective teaching in urban schools. You'll receive a solid foundation in core teaching methods, effective lesson planning and data management.
Explore classes for Davenport's graduate urban education degree
As a student in Davenport's leading-edge urban teaching program, you'll acquire culturally responsive teaching strategies that empower students intellectually, socially and emotionally. Classes such as Family and Community Partnership Practice and Differentiating Instruction will prepare you for teaching in urban schools and promoting educational equity at every turn.
Which class should I take? When should I take it?
See our Recommended Program Sequences:
40,000
Number of students in urban schools positively impacted by our program participants
13:1
Benefit from a 13:1 student-to-faculty ratio at Davenport
100%
Enjoy convenient, 100% livestream urban education degree classes
$2K
Qualify for a $2K annual graduate scholarship and the TEACH Grant
Why pursue a graduate urban education degree at Davenport?
Your classes emphasize culturally sound teaching strategies for urban classrooms to foster your success. Receive immediate feedback from faculty on the skills you'll need most as a teacher through the clinical classroom observation component. You'll also benefit from cultural intelligence assessments and learning modules that offer insight into internal bias and systematic inequity.
Davenport's urban teaching program partners with community schools and other entities so you'll develop strong relationships for effective teaching in urban schools. The knowledge, skills, experiences and connections you gain in Davenport's urban teaching program will help you become an effective educator.
Experience the Davenport difference:
 
  

Engaging, convenient online+ format

Enjoy the convenience and quality of a master of urban education that's delivered through livestream classes.
  

Faculty experts in urban education

Learn from Davenport faculty who have 30+ years of collective experience as educators, with expertise in areas like elementary and secondary teaching and educational leadership as well as certification in Online+ learning instruction. 
  

Clinical immersion from the start

As a working teacher, you can add newly acquired skills to your classroom immediately.
  

Gain practical skills in urban education

Build real-world skills with Davenport's urban teaching program opportunities that include service learning, research, an urban education symposium and on-the-job coaching in K-12 education.
  

Preparation for an in-demand career teaching in urban schools

Earn the Davenport urban education degree that can make you a sought-after candidate for teaching in urban schools who is culturally competent with exemplary teaching skills that facilitate educational equity.
  

Award-winning program

Davenport is a Transformational Award Winner as recognized by the American Council on Education.
Hear one graduates journey in Davenport's urban education master's program
"Education is one of the most rewarding careers you could ever ask for in your life. "
-Ray Marshall, M Ed '21
3rd Grade Teacher, Hope Academy of West Michigan
Get started on your graduate urban education degree
Explore the admissions requirements and then take the next step toward earning your urban education master's at Davenport.
Talk to a graduate admissions advisor
Davenport's admissions team is here to answer your questions. Please call us at 800.686.1600 or email us at info@davenport.edu.
Programs related to the master of urban education degree
About Davenport University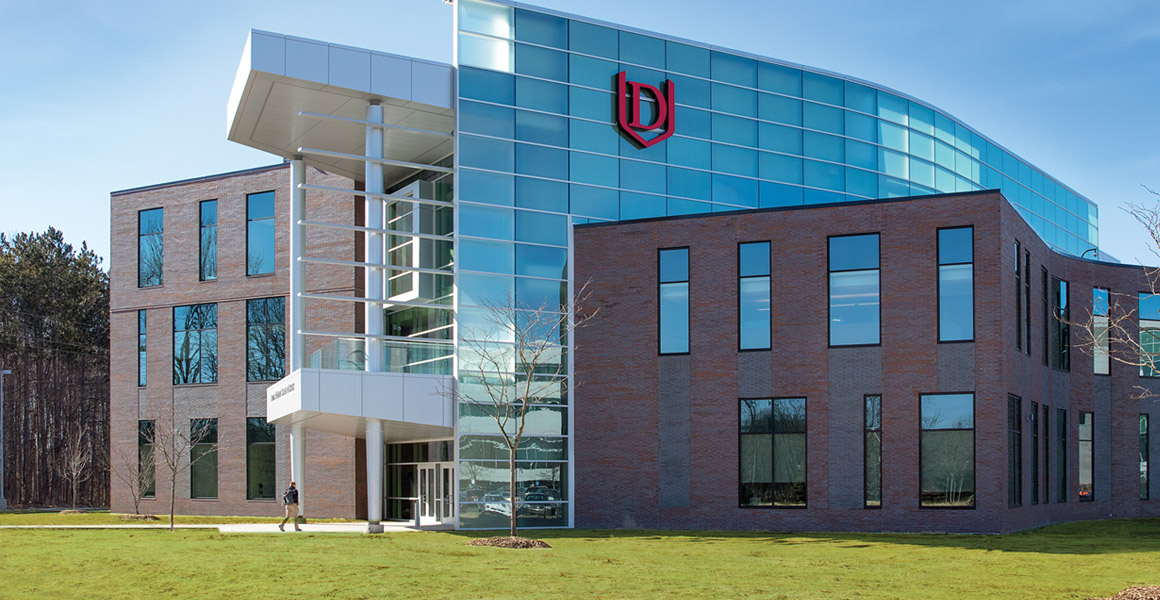 Davenport is a private, not-for-profit university with more than 150 years of experience preparing students for successful careers.
Offering over 60 bachelor's and master's degree programs, we align with top employers to design degree programs that help you gain the skills and real-world experience you need to rise above the rest. With small class sizes and campuses across Michigan or online, you'll earn a quality education on your schedule at Davenport University. 
Fill out the Davenport Application for Admissions.

Candidates must have a bachelor's degree or above with a 3.0 GPA and pass a subject area competency exam.

Two (2) signed professional recommendation forms and one personal recommendation form are required.
A current resume/CV must be submitted and it should include prior employment experience, educational background, and any organizational affiliations.
Statement of purpose (refer to the statement of purpose form in the admission packet).
Participate in an interview with the College of Urban Education (CUE) Admission Committee -  to be scheduled by Davenport upon submission of the completed application.
As a Master of Urban Education graduate you will:
Demonstrate the skills to create holistic learning opportunities in urban classrooms to foster student success.
Be immersed in urban student learning needs, challenges and solutions.
Be prepared to meet the educational demands of urban settings.
Understand and rely on measurable data to align and plan your work.
Be qualified to teach, collaborate, innovate and problem solve.
Become part of an interactive professional community.
Possess unique knowledge through your key educator partnership, gaining insight from both higher education and K-12 sectors.
Master technology applications to maximize your preparation.
Work with a research and development agenda that supports continuous improvement.