Advance as a responsive, effective leader in urban schools
Master of Education - Urban Educational Leadership (36 credits)
Gain the skills and strategies critical to leading schools and districts in our cities through the master of education in urban educational leadership at Davenport University. Our leading-edge urban education leadership program supports and empowers current and aspiring school administrators to succeed in urban schools. 
This master's of education is delivered 100% Online+ through Davenport's innovative Global Campus. You'll benefit from culturally competent urban education courses and a master's of education that immerses you in actual clinical settings through internships and more. 
Receive exceptional preparation for leadership roles in urban education, including principal, vice principal, dean of students and other urban educational leadership positions. Graduates of the master's of education are often promoted to leadership positions and many serve as administrators in K-12 settings. 
Train to be a change agent in urban education
Through Davenport's master of educational leadership, you'll focus on urban studies, including the impact of race, culture and equity, and learn to navigate these and other urban education issues. This master's of education is for you if you are an educator or administrator who is a transformative thinker with a strong desire to make an impact in urban schools. 
Explore classes for Davenport's master of educational leadership
You'll take rigorous, relevant and culturally competent courses that teach you best practices in urban educational leadership. Your urban studies include foundations of urban education leadership as well as business essentials you'll need in leadership roles in urban schools. The master of educational leadership is aligned with national standards for educational leaders and meets Michigan Standards for Preparation of School Administrators. 
Which class should I take? When should I take it?
See our Recommended Program Sequences:
100%
Take urban education courses 100% online through Global Campus
$2K
Qualify for up to $2,000 annually in graduate student scholarships
2
Finish your master of educational leadership in just two years
40,000
Number of students positively impacted by our program
Why pursue a master of educational leadership at Davenport?
By pursuing your masters of education in educational leadership, you'll benefit from our relationships with educational leaders across the region and beyond. Selected through a rigorous process, these key educator partners represent both the K-12 and higher education sectors. Along with Davenport, they're dedicated to preparing you to become a highly effective leader in urban schools.
You'll learn from certified teaching professionals with 30+ years of experience as educators, collectively. You'll also receive weekly coaching regarding educational leadership and through cultural intelligence assessments and course curriculum, you will gain insights into unconscious bias and systematic inequity.
Experience the Davenport difference:
 
  

Convenient online master's of education

Enjoy the convenience and quality of a master of educational leadership that's delivered 100% Online+ through Davenport's Global Campus.
  

Educational partners in urban schools

Take advantage of Davenport's relationships with partner districts, some of which often offer increased pay and/or tuition benefits to candidates enrolled in the master of educational leadership. 
  

Hands-on experience in urban schools

Put your new skills into practice in real time through a master of educational leadership that offers hands-on learning opportunities, such as internships, research, projects, service learning and more. 
  

Faculty who are urban school experts

Benefit from a 13:1 student-faculty ratio. Learn from exemplary urban education leaders with expertise in areas like curriculum design, district leadership, Online+ learning and educational policy. 
  

Dedicated financial aid counselor

Find the maximum financial aid to offset the cost of your urban studies with the help of your own dedicated financial aid counselor. You may qualify for up to $2,000 annually in graduate scholarships. 
"The program helped prepare me for success in a doctoral program."
--Meaghan Polega, M Ed '16
Teaching and Learning Coordinator, Davenport University
Get started on pursuing your urban education leadership degree at Davenport
Explore the admissions requirements and then take the next step toward earning the Davenport master of educational leadership.
Talk to a graduate admissions advisor
Davenport's admissions team is here to answer your questions. Please call us at 800.686.1600 or email us at info@davenport.edu.
Programs related to the master's in urban educational leadership
About Davenport University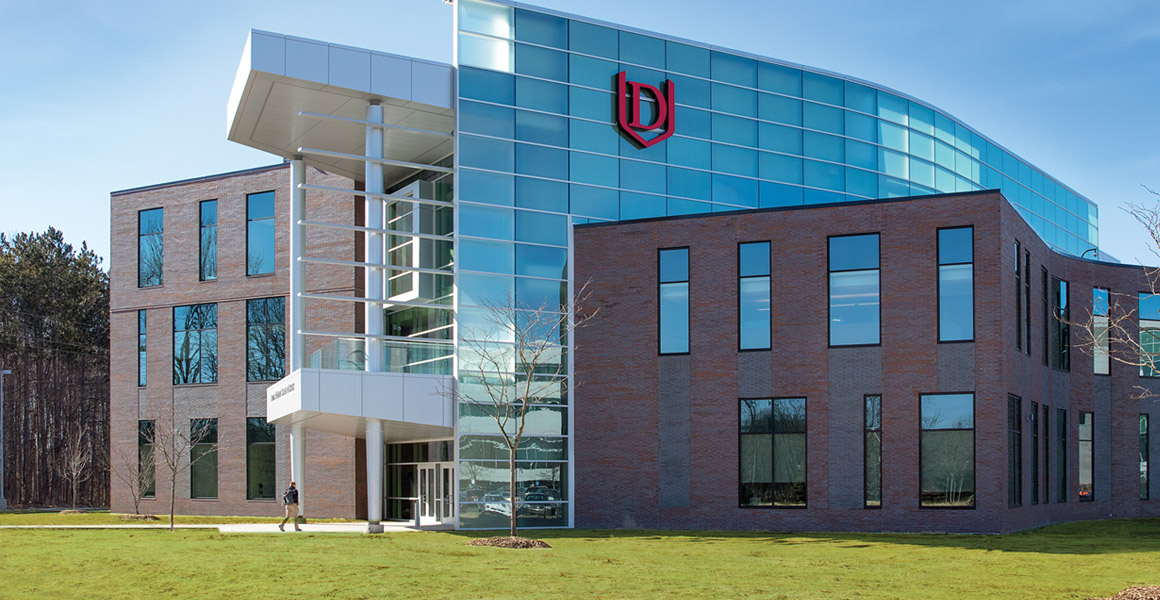 Davenport is a private, not-for-profit university with more than 150 years of experience preparing students for successful careers.
Offering over 60 bachelor's and master's degree programs, we align with top employers to design degree programs that help you gain the skills and real-world experience you need to rise above the rest. With small class sizes and campuses across Michigan or online, you'll earn a quality education on your schedule at Davenport University. 
Fill out the Davenport Application for Admissions.

Candidates must have a bachelor's degree or above with a 3.0 GPA

Two (2) signed professional recommendation forms and one personal recommendation form are required.
A current resume/CV must be submitted and it should include prior employment experience, educational background, and any organizational affiliations.
Statement of purpose (refer to the statement of purpose form in the admission packet).
Participate in an interview with the College of Urban Education (CUE) Admission Committee -  to be scheduled by Davenport upon submission of the completed application.