Skip to Program Curriculum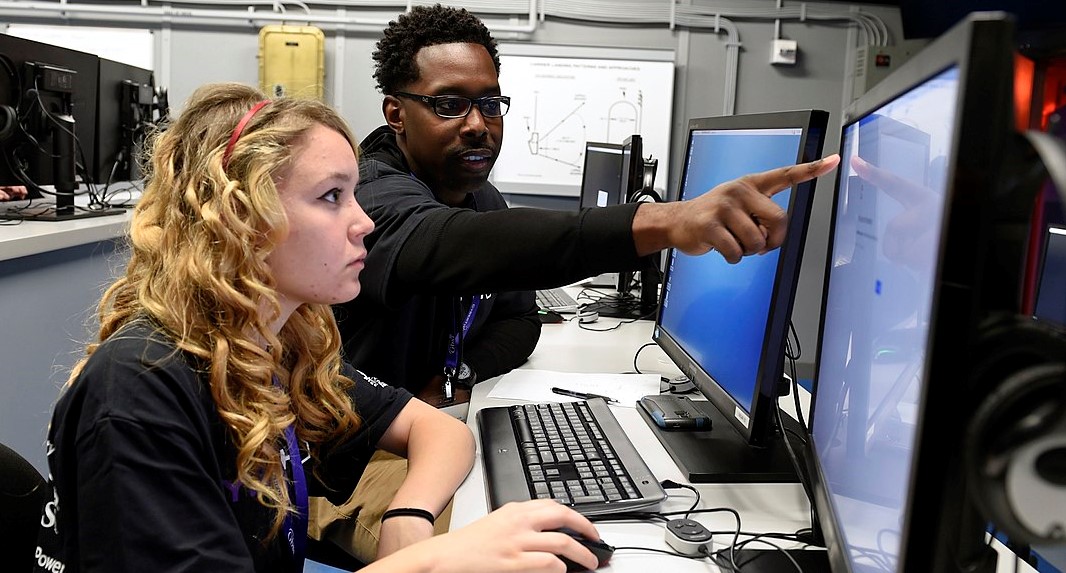 cyber Defense, Bachelor of science
Learn the newest techniques and trends in cyber security.
A Cyber Defense professional helps protect data from threats, both inside and outside of an organization. We will provide you with specialized skills to create systems of checks and procedures for controls that help thwart unwanted intervention and provide cyber security to the organization.
In this program the hands-on tools and techniques, supported by the latest trends and case studies, will cover a myriad of topics to present what cyber security is and how to best protect an organization's information assets. You will learn the performance-based skills and develop the knowledge set to ensure appropriate treatment of risk, compliance, and assurance from internal and external perspectives in order to provide the best cyber security possible.
Michigan is leading the pack in cyber security education.
Read
how Davenport University makes the list of the top five schools in Michigan that are providing students with the tools they need to succeed in this field.
The Bachelor of Science in Cyber Defense can be completed in-seat or online
Download a
PDF
of the Bachelor of Science degree in Cyber Defense.
Davenport University is a DHS/NSA nationally recognized Center of Academic Excellence in Information Assurance Education.

The Committee on National Security Systems in conjunction with the National Security Agency (NSA) and the Department of Homeland Security (DHS) jointly announced the designation of Davenport University as a

National Center of Academic Excellence

in Information Assurance Education (CAE/IAE)
Davenport offers course credit for specific certifications you may hold. Obtaining a certificate demonstrates your knowledge in a specific technology area. In addition, it also indicates your dedication and motivation to professional development. For these reasons, certification exams are highly recommended after completing certificate related courses in Davenport's technology programs. See our certification page for additional information.
Specialties Offered
The Foundations of Excellence courses for Davenport's Cyber Defense degree program provides you with the knowledge and ability to complete these tasks and will form the core of your professional career. Davenport offers two specialties to enhance your degree.
Health Care Information and Assurance:

Be prepared to work with health regulations and standards, including data governance compliance. In addition, explore the application of clinical systems, such as electronic health record (EHR) systems. Other topics include information system resource management and access, disclosure and storage of protected health information.

Information Assurance:

Topics include disaster recovery of electronic data, authentication and audits, cryptography and wireless networking and security. Hands-on exercises will reinforce the implementation and troubleshooting of networks. Other topics include auditing user activity, business impact analysis processes and securing operating systems.
Mathematics Minor
Davenport University offers the option of completing a mathematics minor. A mathematics minor is ideal for those who want a deeper and broader background in mathematics, and provides you with a competitive edge in the job market. Gain a solid foundation in applied mathematics that provides you with the necessary knowledge and skills for careers in technology. Speak with your advisor about adding this option to your degree plan.

Back to Top
Full Curriculum
BACHELOR OF SCIENCE  •  120 CREDITS MINIMUM  •  CYBER DEF BS
The Bachelor of Science degree in Cyber Defense provides the proactive and reactive knowledge and skills that encompass security in the technological environment. Students will learn to ensure appropriate treatment of risk, compliance, and assurance from internal and external perspectives. With an emphasis on how to best protect an organization's information assets, topics will be covered from both the business and technology perspectives. Students will have a choice between two specialties: Information Assurance or Health Care Information Assurance.
*Either IAAS490 or TECH489 must be completed unless the experiential learning component is satisfied. An upper level technology substitution must be chosen if the experiential component is completed within a required course in the major.
**Consider adding the Mathematics Minor (MTHM) 22 credits with this degree program. One of the required math courses (MATH215) is required in the foundations, the other six courses could be taken as part of the Open Elective Credits. 
 Which class should I take? When should I take it?
2018-2019 Recommended Program Sequence for Cyber Defense, BS:

Specialty: Health Care Information Assurance and printable pdf download
Specialty: Information Assurance and printable pdf download
Minor: Mathematics and printable pdf download
Foundations of Excellence
30-31 cr.
ACES100 or OPEN
Achieving Career and Education Success or (if exempt) Open Elective
3 cr.
COMM120
Presentation Techniques
3 cr.
ENGL109
Composition
3 cr.
ENGL110
Advanced Composition
3 cr.
ENGL311
Professional Writing
3 cr.
MATH135/150/215
College Algebra or Pre-Calculus or Calculus I
3-4 cr.
SOSC201
Diversity in Society
3 cr.
SOSC301
Globalization and World Diversity
3 cr.
STAT220
Introduction to Statistics
3 cr.
SCI
Science Elective
3 cr.
Foundations of Business
(9-10) cr.
ACCT200 or ACCT201
Accounting Basics for Managers (recommended) or Accounting Foundations I
3-4 cr.
BUSN210
Professional Ethics
3 cr.
MGMT211
Management Foundations
3 cr.
Foundations of Cyber Defense
15 cr.
BITS211
Microcomputer Applications: Spreadsheets
3 cr.
CISP247
Database Design
3 cr.
GPMT287
Principles of Project Management
3 cr.
IAAS221
Security Foundations
3 cr.
NETW101
PC Operating Systems
3 cr.
Major
45 cr.
CISP253
Perl/Python Scripting
3 cr.
IAAS256
Windows Digital Forensics
3 cr.
IAAS481
Information Security and Assurance
3 cr.
IAAS492
Legal and Ethical Issues in Information Assurance
3 cr.
NETW141
MS Client and Server OS
3 cr.
NETW151 or NETW220
Cisco Networking Fundamentals or Data Communications and Networks
3 cr.
NETW217
UNIX Operating Systems
3 cr.
NETW235
UNIX/Linux Server Administration
3 cr.
NETW241
MS Implement Network Infrastructure
3 cr.
IAAS490* or TECH489*
Information Assurance/Security Internship or Field Experience in Technology
3 cr.
TECH497
College of Technology Capstone
3 cr.
| Choose one of the following specialty areas: | (12) cr. |
| --- | --- |
Health Care Information and Assurance Specialty [HIAS]
(12) cr.
HINT340
Privacy, Security, and Training in Health Info Mgmt
3 cr.
HINT350
Clinical Information Systems
3 cr.
HINT400
Management Information Systems
3 cr.
HLTH210
Health Care Organizations and Systems
3 cr.
Information Assurance Specialty [IASP]
(12) cr.
IAAS245
Disaster Recovery
3 cr.
IAAS332
Authentication and Audits
3 cr.
IAAS491
Cryptography
3 cr.
NETW325
Wireless Networking and Security
3 cr.
Open Electives - Apply MATH125 Intermediate Algebra (3 cr) here if required. Recommended Electives:
19-21 cr.
MATH140
Finite Mathematics
3 cr.
STAT322
Inferential Statistics
3 cr.
**Mathematics Minor (Optional)
(22) cr.
MATH215
Required in the Foundations
4 cr.
MATH205
Applied Linear Algebra
3 cr.
MATH216
Calculus II
4 cr.
MATH250
Discrete Structures
3 cr.
MATH317
Calculus III
4 cr.
MATH350
Differential Equations with Modelling
4 cr.
<!–– program json structured data ––>