Using technology to collect, analyze and protect data
Bachelor of Science - Health Information Management (120 credits minimum)
Combine your love for healthcare with your desire to protect and maintain vital information across technology platforms. Designed with your future in mind, our program prepares you for in-demand leadership roles within the nation's health system.
In fact, since we are accredited by the Commission on Accreditation for Health Informatics and Information Management Education (CAHIIM), you are qualified to sit for the Registered Health Information Administrator (RHIA) exam after graduation.
We proudly invite you to launch or advance your career in this fast-growing segment of healthcare.
Which class should I take? When should I take it?
See our Recommended Program Sequences:
American Health Information Management Association (AHIMA)
Program Outcomes
Students successfully completing this CAHIIM-accredited program are eligible to take the Registered Health Information Administrator (RHIA) exam offered by the American Health Information Management Association (AHIMA).
Each program completes a yearly Annual Program Assessment Review (APAR) for CAHIIM.  
Outcomes from the most recent program review include:
100% of respondents to an employer survey indicated they are satisfied with graduates of the
Davenport University HIM program
Graduate Satisfaction = 100%
Student Satisfaction 6.11 on a scale of 1-7
Retention rate as of Fall 2019 = 77%
Job placement rate = 100%
Enrollment/Graduation rate = of all 113 HIM students enrolled in Fall 2018, 23 or 20.4%
received a bachelor's degree award in the program from DU within the 2018-19 academic year.
RHIA pass rate = higher than the national average
PROGRAM OR STUDENT/GRADUATE LEARNING OUTCOMES
Manage data structure, content, and information governance.

Evaluate information protection: access, use, disclosure, privacy, and security.

Determine the appropriate use of health informatics, health analytics, and health
data.

Interpret health law and compliance methods.

Evaluate organizational management and leadership strategies utilized in the
Health Information Management field.

Engage in healthcare revenue cycle improvement processes.
Admission Requirements
Admission follows Davenport University admission and progression policy as outlines in Undergraduate Catalog.  Student in the College of Health Professions must maintain a 2.0 GPA to continue in a program of study towards a degree.
Criminal Background Check and Drug Screen Policy
All students in the Davenport University College of Health Professions are required to submit to criminal background check and drug screening at the time of declaring a major in the COHP. The results of the Testing , which shall remain confidential, shall be used by the COHP to approve or disapprove of a Student for enrollment or continued enrollment in the COHP, and/or eligibility for training programs, clinical or practicum. The Testing shall be completed by registering for the appropriate course and completing the entire testing process in the course. Each student is responsible for acknowledging and explaining positive Result(s) after completing the process. A student will be dismissed from the COHP if he or she refuses to consent to the Testing. The cost of the Testing is the part of the course fee and is the responsibility of the student.
Faculty and Staff
Department Chair Allied Health and Health Information Management: Linda Sorensen, MPA, RHIA, CHPS
Associate Department Chair, HIM/Allied Graduate: Jeanne Freeman PhD, RHIA
Associate Department Chair/Program Director HIT/HIM: Megan Tober, MBA, RHIA
Teaching and Learning Coordinator: Stacie Kreinbrink, MBA, RHIA
For Practicum Manager Information, click here!
Organizational Chart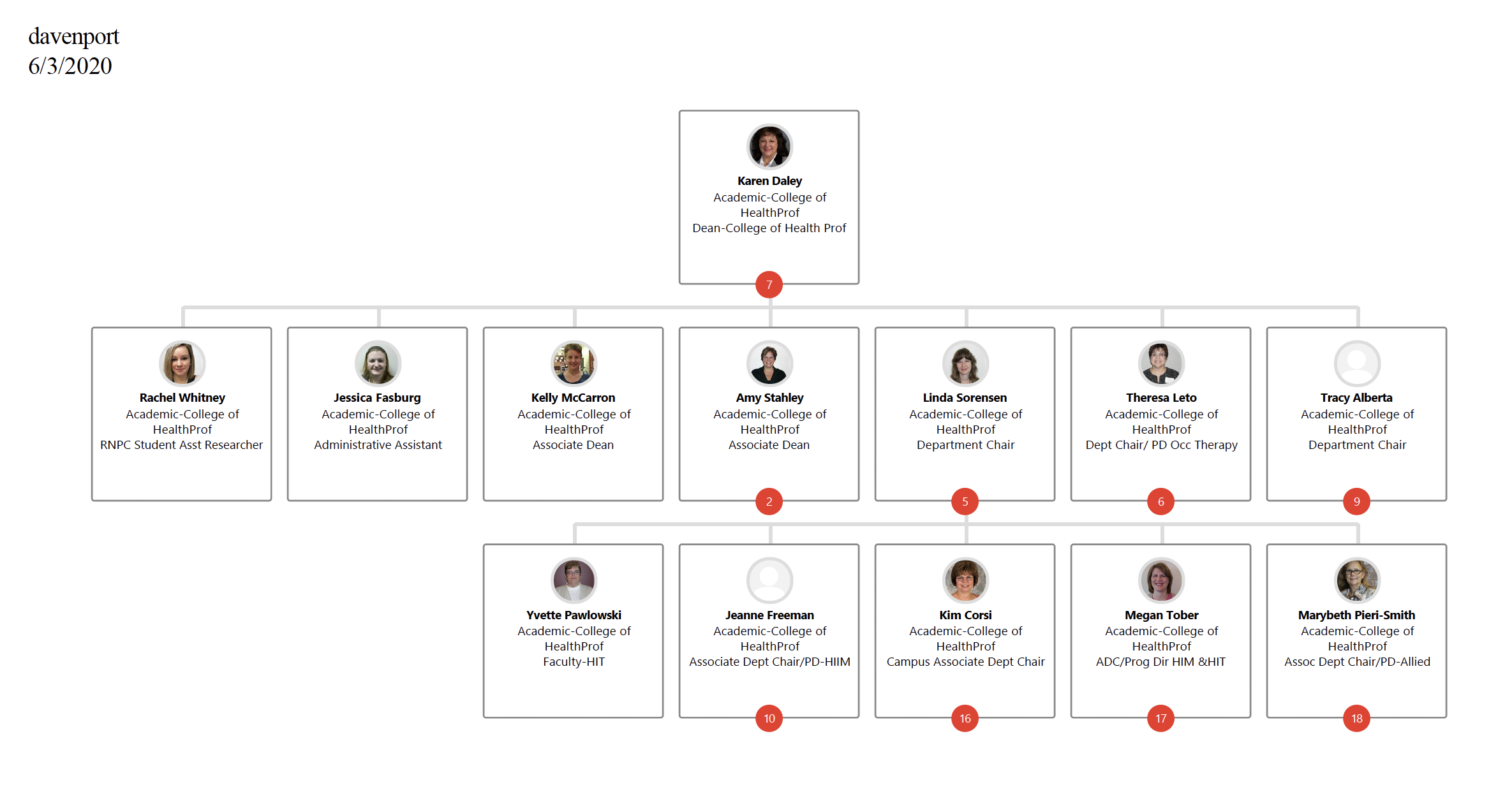 HIT/HIM Program Director
Meet Megan Tober, the associate department chair and program director for the health information management programs at Davenport University.
Accreditation
The HIM baccalaureate degree program is accredited by the Commission on Accreditation for Health Informatics and Information Management Education (CAHIIM) at the Davenport University main campus in Grand Rapids, MI.  Contact information:
   CAHIIM
   233 N. Michigan Avenue Suite 2150
   Chicago, IL 60601
   (312) 233-1183
   www.cahiim.org